Moto X+1 vs Nexus 5: What to Expect
The different options available for those looking to buy a new smartphone this summer are already wide open, but come next month multiple new choices will be on the table. While most manufacturers have released their devices for 2014, Motorola's yet to deliver anything, but has at least two new phones coming in early September.
The past few weeks have been very busy for Motorola. We've learned they have at least two brand new smartphones coming in early September, the Moto 360 smartwatch, an accessory of some type, and possibly a duo of smartphones for the Verizon DROID lineup.
Read: Moto X+1 Release Date and Rumor Breakdown
The original Moto X was rather popular due to a few fancy features and hands-free voice commands, not to mention a slew of customization no other phone has ever offered. However, in 2014 a new Moto X+1 (or Moto X2) is coming, and below we'll take a look at what buyers can expect from the new Moto X+1, and how it compares to another wallet-friendly device like the Google Nexus 5.
Last year Motorola surprised everyone they took the stage and unveiled the original Moto X in August of 2013. Offering a rather impressive looking smartphone full of customization options unlike any phone before it. The Moto X arrived with a MotoMaker.com website allowing users to choose over 18 different colors for the back, accent colors for the camera and buttons, engravings, and even wood backs such as Bamboo and Walnut.
The phone was awesome all around, but had a smaller display than most other flagships in 2013, wasn't quite as powerful, and started off at the same price point. Eventually the price dropped and more units were sold, but in 2014 Motorola is back with something even better, and that will be the Moto X+1 which is officially going to be announced on September 4th in Chicago.
A few months after the Moto X debut Google released the Nexus 5 running Android 4.4 KitKat. Both phones are still available today and are excellent when it comes to price vs performance. Here we'll compare last years Nexus 5, for those who own it or may be considering buying one, to the new and upcoming Moto X+1.
Design
The overall design for the new Moto X+1 hasn't changed too much, that is if the few rumors and leaked images are accurate. That being said, nothing has been confirmed and we've only seen a few very small leaks potentially revealing the smartphone. Below is one of the best looks we've seen of the new phone, showing its size and new front facing speakers, but that's about all we know.
So far we can gather that Motorola learned a thing or two from Google during their short time being owned by the company before being sold to Lenovo, and both of these phones offer nearly stock Android with a sleek and unassuming design.
The design is nearly the same with the new Moto X+1 as the original, but the bigger screen size should help it compete with the Nexus 5 and its 5-inch 1080p HD Display.
While the Moto X+1 will likely have an array of customization options like the original, the stock versions from most carriers will be white and black, offering a similar simple design as Google's own Nexus 5.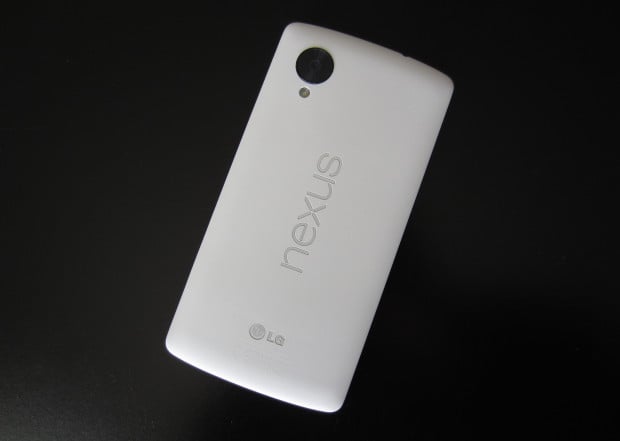 Both phones have subtle curves around back making them easy to hold, and very simple yet elegant designs. It's hard to know what consumers need, want, or prefer, and in the end you'll need to see each model yourself before making a choice.
Specs & Features
The Nexus 5 offered some of the best specs we've seen yet from a Nexus smartphone, and arrived with a brand new Android 4.4 KitKat operating system with tons of new features and a few major design changes. Performance was swift, and we can expect the same from the Moto X+1 once it's released.
Specs don't mean everything, and users are likely more concerned with solid and smooth performance, as well as longevity, but here's the numbers for those interested in how the upcoming Moto X+1 could compare to the Nexus 5 from October of 2013.
Moto X+1 Specs (Rumored)
5.2-inch 1920 x 1080p Full HD Display
2.5 GHz Snapdragon 800 quad-core with 2GB of RAM
16/32GB storage with micro-SD expansion included
Android 4.4.4 KitKat
12 Megapixel rear and 2.1 front cameras
Dual front-facing speakers (aimed at the HTC One M8)
2,900 mAh battery
Tons of customization options
Nexus 5 Specs
5-inch 1920 x 1080p HD Display
2.3 GHz Quad-core Snapdragon 800 with 2GB of RAM
16/32GB storage, no micro-SD
Android 4.4.4 KitKat
8 Megapixel OIS camera, 1.3 front shooter
Single bottom speaker
2,300 mAh battery
Available in White, Black, and Red
As you can see the new Moto X+1 is finally getting around to competing with other top-tier devices, considering the original was a dual-core while most smartphones in 2013 had at least four cores for improved performance.
However, specs aren't everything, and the Moto X ran quite excellent, and we can expect the same thing this year from the new Moto X+1. It's worth noting the Moto X+1 will have a bigger screen, potentially a better camera, improved front facing speakers, and tons of customization all that makes it a better option than the plain Jane Nexus 5.
Software
One of the most important aspects of the Moto X was software. For one, it ran stock Android with a few small changes rather than an entire overlay or skin like Samsung, LG, or HTC offers. This means it had fluid and fast performance just like a Nexus device, making it an awesome choice for potential Nexus 5 owners.
In 2014 we're expecting the same thing to happen, with possibly even a few more awesome additions to make the software even better. Both the Moto X+1 and Nexus 5 will run the latest Android 4.4.4 KitKat, but Nexus devices always receive updates first. That being said, Motorola has been the quickest manufacturer to updates the past 6-8 months, and we expect that trend to continue thanks to their simple and near-vanilla versions of Android they employ on their smartphones.
Above is a quick video showing off Android 4.4 KitKat, and while a few minor updates have changed things, nothing is much different than what's shown above.
Motorola has a few small additions with the Moto X like the Active display and hands-free voice controls, which we expect to be even better with the new X+1 coming next month. There's also rumors the Moto X+1 will have a clickable and usable button on back (the Moto logo) but we've yet to learn exactly what the company has planned for that. Whether it be for pairing with new hardware, or a software shortcut.
Release Date
The Nexus 5 is readily available around the globe, but mainly it's in the Google Play Store. Some carriers offer it in store, like Sprint, but it won't work with Verizon.  The Moto X+1, G2, and Moto 360 will all be revealed on September 4th by Motorola, and rumors suggest a global launch date on September 10th. Other reports suggest the Verizon Moto X+1 won't arrive until September 25th, which could be the date other carriers receive it too. That means if you need a phone right now, the Nexus 5 or something else may be worth getting.
Almost the entire month of August we saw deals deliver over $100 in savings on the original Moto X, and currently the $25 wood backs are free, likely in an attempt to move some inventory and make way for the newer model. This doesn't mean the release date is as close as we think, but it will likely arrive before the end of September across all major carriers.
Price
The Nexus 5 is $349 for the 16GB version, and $399 for those wanting 32GB of storage. It's one of the best price/performance phones available, and will stay that way until the Nexus 6 arrives later this fall. A few rumors point towards the same $399 price point for the new Moto X+1 when it gets released, but that's yet to be confirmed.
There has been speculation that they'll offer a one-day sale for $199 on the new Moto X+1, but that's unlikely. On top of that we're hearing the new Moto X+1 will replace the original at the same $399 price point from MotoMaker with all the customization colors being free. The wood and leather backs will likely remain a $25 charge.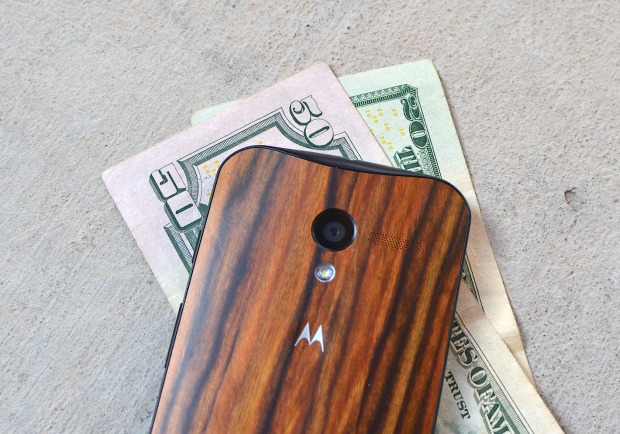 If the rumors are accurate, the new Moto X+1 16GB model may end up costing the same amount as the current 32GB Nexus 5. Making this a rather tough choice. The Nexus 5 is still an excellent phone, but the Moto X+1 will potentially offer more. The screen is bigger, it has front facing speakers, tons of customization, and likely a much better camera experience.
The Nexus 5 is hard to argue with, especially if you want stock Android. However, if a near stock version of Android is something you're interested in the Moto X+1 is worth the wait, just to see what they'll have to offer consumers and prospective buyers.

This article may contain affiliate links. Click here for more details.