Moto X+1 Concept Ignites New Rumors
A brand new Moto X+1 or Moto X2 concept has arrived that is adding more fuel to fires and the rumors we've been hearing as of late. The flagship Moto X from 2013 will soon be replaced by a new variant, although thus far we don't know what to expect.
In early April we heard our first rumors about a new Moto X smartphone, with @evleaks sharing the name "Moto X+1" first. Since then multiple small details have arrived, including a few from Motorola, but nothing is set in stone, nor do we know what is coming later this summer.
Read: Moto X+1 Rumor Roundup: What We Know So Far
In February Motorola promised a new smartphone was coming this summer, but that's about the extent of any confirmations. As such, all we have are reports and rumors, as well as some leaked benchmarks, but today we're sharing a fan-made Concept that actually looks quite nice.
The rumors are slowly starting to ignite regarding what could be coming from Motorola, and if a bigger display ends up turning up the neat design and dual speakers shown below could be quite interesting. Read on for more details.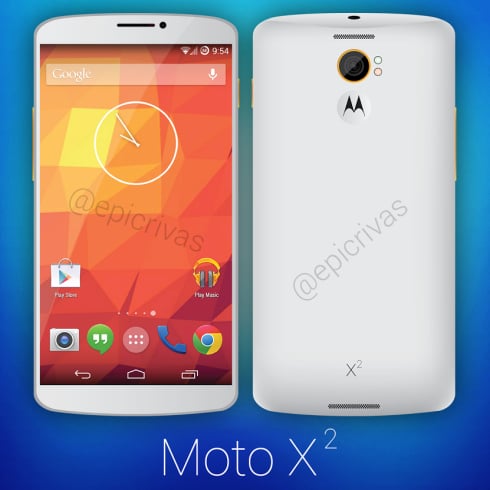 Lately all the attention has been on the Samsung Galaxy S5 and the impressive all aluminum HTC One M8, but Motorola has a unique approach that's completely different. Rather than battle with them they've been offering mid-range devices full of customization.
The Moto X has over 18 different colors to choose from, accent colors, wood backs, and now we're hearing the Moto X+1 will have genuine leather on back as another customization option for prospective buyers. Whether this debuts on a new device, or a slightly different Moto X+1 remains to be seen.
Above is a fan-made concept render spotted by Concept-Phones, showing what we could expect from a new Moto X2, or the rumored Moto X+1. Taking a similar overall approach and design as the original, only adding a few key improvements.
Read: Moto X in Walnut Wood Hands-on Video
HTC surprised many with the HTC One last year and those dual front facing speakers, and while the image above finally has a dual speaker system from Motorola, they aren't on the front. It's an interesting approach to add dual stereo speakers on back, but could really help in the audio and speakerphone department.
The Moto X+1 (or Moto X2) appears to have an upgraded camera, and this designer chose to add the dual-stage regular and amber LED system on back for enhanced photos. Something we've seen from LG and Apple, to name a few. That aside, the design and even subtle curves and angles aren't much different from the original Moto X. The customization is still on board with unique colors around the camera lens and buttons, and if the leather rumors are accurate we could see the new Motorola phone arrive with more than 30 different customization options.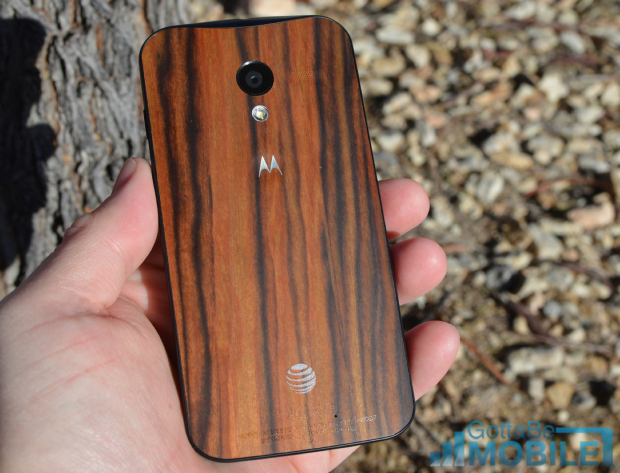 The slimmer bezels shown in the original concept above play into the recent rumors that Motorola will be increasing the screen size on the next Moto device from 4.7-inches to 5.2, but again that's yet to even be remotely confirmed.
So what can we expect from the Moto X+1? We're not really sure. A name like that implies a very small change from the previous generation, but some benchmarks claim a pretty major shift from the original, so it's hard to tell or even guess.
Leaks suggest we could see a 5.2-inch 1080p HD display, and the flagship quad-core Snapdragon 800 processor from 2013. This would be a 2.3 GHz quad-core with 2GB of RAM, and surely come with a few extra cores for all the hands-free voice controls and quick actions from the Moto X. The leak suggests a 12 megapixel camera over the 10MP from last year, and possibly a micro-SD card for storage expansion.
Lastly the leaked benchmark said this device was running Android 4.4.3 KitKat, a version of Android that's yet to be announced or released by Google. So while this could be accurate, we need to take it all with a grain of salt.
Read: Moto X Price Leaks as Rumors Swirl
This week Motorola's own site leaked the Moto X+1 name, as well as a $400 price tag. That could just be a placeholder for the real thing, whenever it gets announced, but considering that's the same price as the original Moto X it makes perfect sense for the successor.
The rumors, reports, and leaks are slowly but surely starting to arrive, and it'll be interesting to see how Motorola takes on Samsung, HTC, LG, and even Apple with its next smartphone.
Again the image at the top of the page is only a fan-made render, but helped ignite a few more rumors, as well as showcase what we could be seeing later this year from Motorola. Recent leaks of the new Moto E budget device for emerging markets has dual front facing speakers, so this is something that very well could carry over to the flagship Moto device for 2014.