Moto Z and Moto Mods Release Date Arrives
The impressive new Lenovo made Moto Z smartphone and its unique Moto Mod accessories will finally be available on July 28th. Moments ago Motorola and Verizon confirmed all the Moto Z release details and pricing, and we have all the information below for potential buyers.
Back in June Motorola took the stage at the annual Lenovo TechWorld tradeshow and unveiled two new flagship smartphones for 2016. Those being the Moto Z and the Z Force DROID, which is a Verizon exclusive. Both phones will be available first on Verizon, and then for more regions in the near future.
Read: Moto Z DROID & Moto Z Force Hands-on Video
This year Motorola ditched the popular Moto X lineup and instead have completely redesigned, re-imagined and changed the smartphone into a highly capable and modular device with lots of magnetic accessories. Our hands-on and first impressions will give users a good idea of what to expect, then read on past the break for all the release date details, pricing and more.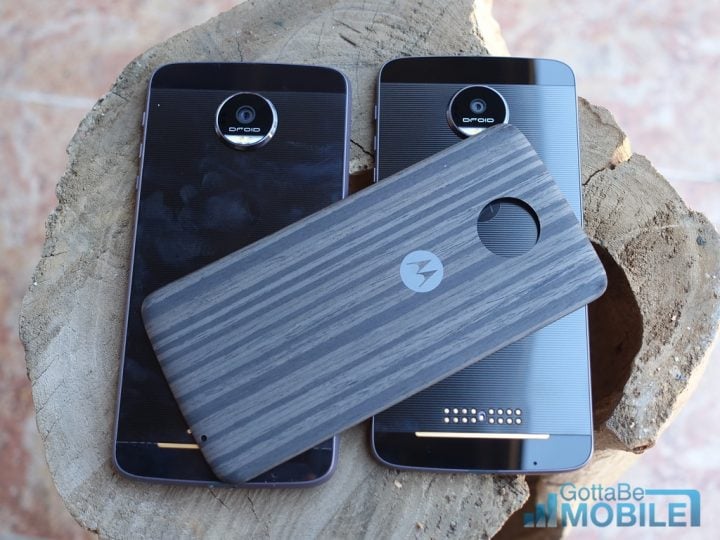 The new Moto Z and Moto Z Force have a big 5.5-inch Quad-HD display, a fingerprint scanner for improved security, the latest powerful internals for excellent performance, great camera options, a front-facing flash, long battery life, micro-SD support and more. They're powerful flagship smartphones, but the most exciting aspect is Moto Mods. Before we get into that, lets talk about release details.
Moto Z and Z Force Release Date
Verizon Wireless will be the first carrier to offer both of Motorola's new smartphones. Starting July 21st the Moto Z DROID and Moto Z Force DROID will be available for pre-order exclusively from Verizon.
Both devices and all the Moto Mod accessories will be available in stores and online starting July 28th. That's the official release date.
It's worth stating that the Moto Z is the phone that will be available unlocked, around the globe, and can be used with other carriers in the US. The slightly better Moto Z Force will only be available from Verizon Wireless, and not from anyone else in the states.
So what's the difference? The Moto Z Force DROID has a better 21 megapixel camera, a 3,500 mAh battery and a "shatterproof" Motorola Shattershield display. The regular model has a smaller 2,600 mAh battery, a capable 13 megapixel camera, and a regular screen instead of the shatterproof technology that is exclusive to the DROID lineup. The batter is the biggest concern, but there are countless Moto Mods that make up for it.
Moto Z & Moto Z Force Pricing
Both the Moto Z and Z Force are available for pre-order on July 21st and in stores on the 28th, so how much will these stunning all metal phones cost?
The Moto Z DROID will be available for $26 per month on a payment plan or $624 outright. Gone are the days of an under $500 Moto smartphone. Then the Moto Z Force DROID will be $30 a month or $720 outright. So similar to the pricing of the Galaxy S7 and other flagship smartphones.
However, the best aspect of these phones is the customization and modular feature. Using a flat back with magnets and some pogo pins for a connection, owners can buy awesome Moto Mod accessories that easily snap on/off the back. Simply drop it on and magnets do the rest. There's no setup required, as the pins do everything as far as communication and setup. It's easy, fool-proof, and turns this smartphone into a portable speaker, a projector and TV, or extends battery life so these phones can last for 2-3 days if not more.
Moto Mod Release Date & Pricing
Comments everywhere suggested users were extremely excited about the Moto Mods and everything this phone can transform into, as long as pricing was fair and realistic. They're fairly reasonable, but spending $600-$720 on a phone and then spending more on accessories could add up quick. That being said, here's what to expect.
Motorola and their partners have designed some awesome accessories for this phone, but at a cost. Here's the breakdown for those curious.
 JBL SoundBoost is available for $79.99
Moto Insta-Share Projector is available for $299.99
TUMI, Kate Spade New York, and Incipio Power Packs are available from $59.99 to $89.99
These Moto Mods are available for pre-order on

July 21

and in Verizon stores beginning

July 28
It's also worth noting that the Motorola "Style Shells" that add genuine leather, real wood backs, carbon fiber, ballistic nylon and other styles and textures to the back of the phone should also be available on July 28th, and on Motorola.com. We're hearing they will be between $29-39, but pricing for those has yet to be confirmed.
Read: 14 Exciting Moto Mods for the Moto Z
So far we've been enjoying three of the Moto Mods for the past week, and users can expect more details and a full review in the near future. The JBL Soundboost sounds amazing, works instantly with no setup, and has a nice kickstand with a textured rubber bottom to prevent sliding. The InstaShare projector is rather expensive, and appears to only stream 480p resolution, so not even HD, but can still be useful for many. The battery packs and style shells are the best bet, which will likely be a hit with owners.
Stay tuned for more details and a full Moto Z and Moto Z Force DROID review in the coming days, and get your own come July 28th from Verizon Wireless. Motorola has yet to unveil when the regular Moto Z Unlocked Edition will be available for other carriers, but expect an announcement in the next 2-3 weeks.

As an Amazon Associate I earn from qualifying purchases.