Moto Z Review: The Modular Compromise
With the Moto Z from Lenovo buyers will get a premium Android smartphone with a big screen, plenty to offer and great performance, but at a compromise. The days of a $400 Moto X with dozens of colors and custom designs to choose from are long gone. Now we have two: the Moto Z and then the Moto Z Force DROID, which is exclusive to Verizon Wireless.
Everything that made the Moto X successful these past few years has been ditched for a modular design that makes the phone more capable, but at nearly twice the cost. The high price tag, poor battery life and lack of a 3.5mm headphone jack are a few of many compromises that were required to make this modular phone become a reality.
Read: Moto Z Release: 5 Things You Need to Know
What makes the Moto Z different is Moto Mods, snap-on magnetic accessories that transform it into a phone with better battery life, a boombox, or even a projector for movies and presentations.
Are the mods worth it and does this phone live up to the hype? Read on to find out. This is our Moto Z review.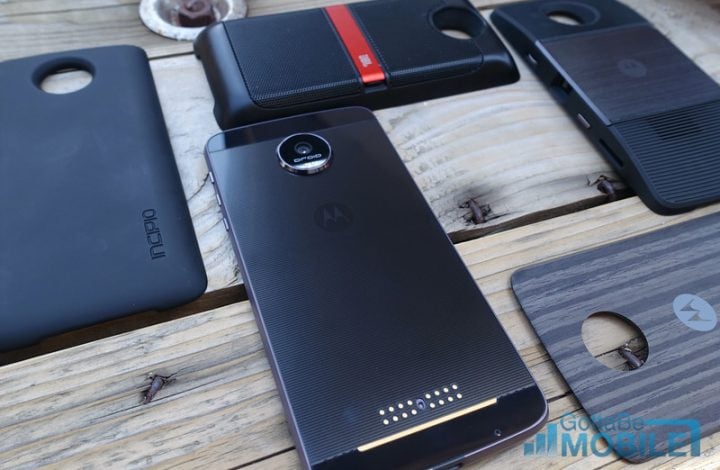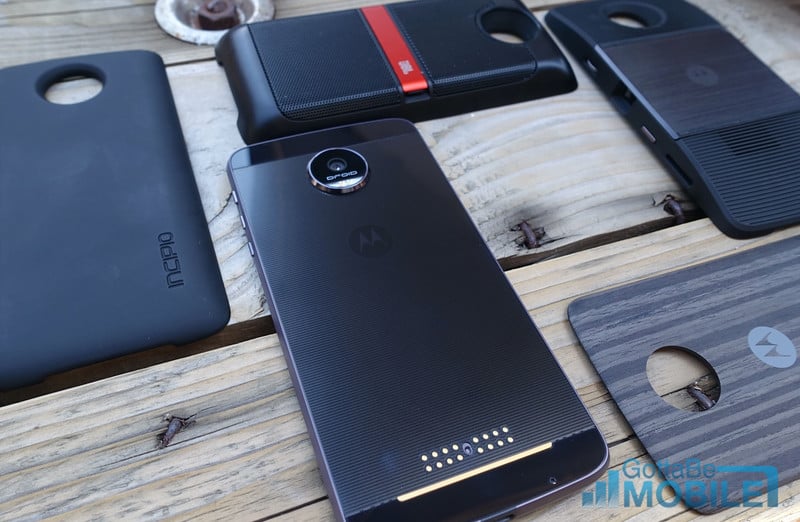 Motorola sent over the Moto Z and Moto Z Force DROID for Verizon Wireless, which are available now starting at $624 at $720. It's the best modular smartphone yet, but still has a long way to go. Below we'll explain everything these phones have to offer, what makes them unique, where the mods fall short, and everything else in-between.
What We Like:
Big and beautiful 5.5-inch Quad-HD AMOLED display
Better camera than any other Moto
Premium metal design and lots of customization
Fast and accurate fingerprint scanner
Smooth nearly stock version of Android
What We Don't Like:
Poor battery life without Moto Mods
Moto Z Force is good where the Moto Z fails, but exclusive to Verizon
No 3.5mm headphone jack, and a USB adapter we'll surely lose
Moto Mods are great but not practical
Bottom Line: In the end the Moto Z has a beautiful 5.5-inch display, a fast and clean version of Android 6.0 Marshmallow, a premium unibody metal design, and finally performance and cameras that can live up to the competition.
However where it falls short is the important part. The Moto Z doesn't have very good battery life, the Moto Mods don't make enough sense and are extremely impractical, yet it's priced nearly as high as other flagships like the Galaxy S7. The opposite of what we've come to love from the company in the Moto X. It's nice to see Lenovo try something different while all other phones are the same slab of metal and glass, but we're not sure it's worth all the trade-offs. If you don't plan on using the Moto Mods, this probably isn't the phone for you.
As a reminder the Moto Z will be available in the near future unlocked from Motorola. While the better of the two, the Moto Z Force DROID is exclusive to Verizon. What's the difference between the two? The Moto Z Force has a bigger 3,500 mAh battery, a better 21 megapixel camera (vs 13MP on the Moto Z) and a shatterproof display. It's available now from Verizon for $720.
Moto Z Display
This year Motorola may have the perfect screen. It's the right size coming in at 5.5-inches, and they went back to using a high quality AMOLED display with a 2560 x 1440 Quad HD resolution. It gets extremely bright, has vivid colors, crisp text and dark blacks. It's one of the best screens we've used (although the title for best screen still belongs to Samsung).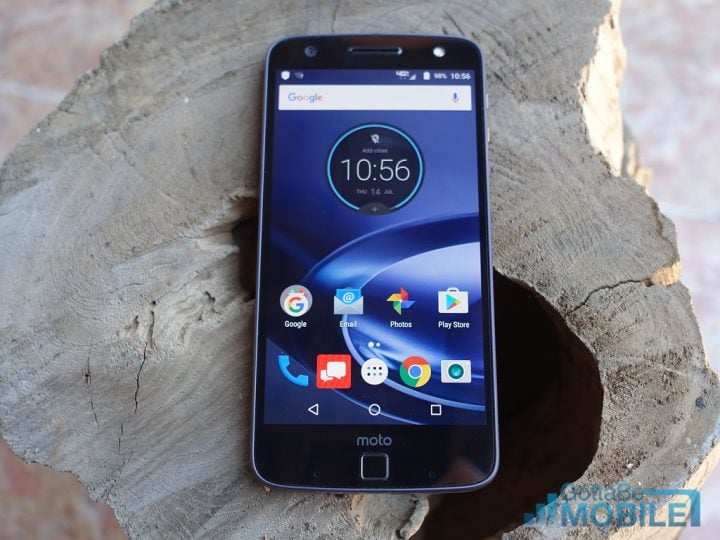 Over the past few years Motorola has offered a slew of screen sizes, never the same as the previous year. The first Moto X was 4.7-inches and then it went up to 5.2, followed by a huge 5.7-inch screen last year. Now Lenovo is in charge, it's called the Moto Z and it's the perfect middle ground sitting at 5.5-inches.
We consider this to be the perfect screen size, and using an AMOLED display pairs perfectly with Motorola's hands-free always on software. A quick swipe of your hand over the screen will turn it on in a low power state, displaying missed calls or texts, notifications for emails, battery life and more. It's a nice touch that Motorola owners have come to love and it works perfectly on the Moto Z.
Screen size aside the phone is quite large, with big bezels on the top and bottom. In fact, the phone is taller and wider than the similarly sized Galaxy S7 Edge. Part of that is due to a new fingerprint scanner below the screen, a first for Motorola, along with a front-facing speaker in the earpiece up top.
Moto Z Design
The Moto Z is one of the thinnest flagship phones we've ever used, coming in at 5.2mm thick. The display blends right into the curved and chamfered metal edge and sides, making it comfortable and easy to hold.
It's a shiny all-metal phone with a huge protruding camera on back, and gold metal pins that have a beautiful contrast. I like how it looks, although those pins will likely be covered up by a case, Moto Mod accessory, or one of the leather or wood shells that Motorola is offering. It's clear the design had to be a certain way for the mods to work.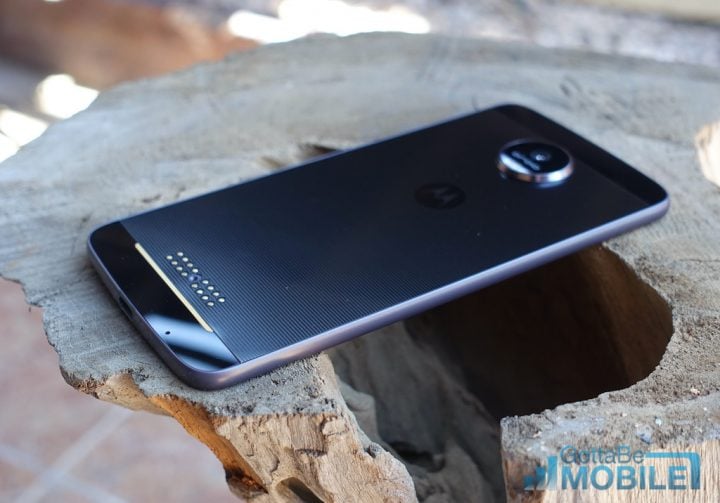 Adding a Motorola Style Shell cover makes the camera sit flush with the rest of the body, but then that's another purchase for the user. Without it the camera will be exposed and is somewhat of an eye-sore.
On the front we have a dedicated flash for selfies, the earpiece and front-facing speaker, and the new fingerprint scanner. It looks like a home bottom similar to Samsung devices, but it isn't and that might take some getting used to.
There's a micro-SD slot on top for expanding storage, and three buttons on the right side. The volume up, down and power button are all the same size and next to each other, which could be frustrating for some. We'd prefer them to be separated on each side of the phone.
The worst part of the design is the lack of a 3.5mm headphone jack. This phone doesn't have one. That's likely due to how thin the phone is, but the thicker Moto Z Force doesn't have one either. Instead, Motorola included a USB Type-C to 3.5mm adapter in the box. Meaning in order to use headphones owners need to bring an adapter, and users can't charge the phone and listen to music at the same time.
Moto Mods
Now for the exciting part: Moto Mods. The entire idea around this phone is owners can add accessories in seconds that transform the phone into much more. Motorola did an amazing job here, too. Well, at least in the delivery and function.
There are no menus, no bluetooth connections to confuse your parents, no need to eject the battery like the LG G5. Nothing. Simply snap a JBL Soundboost speaker, portable battery pack or even the Motorola InstaShare Projector on the back and it just works. The pins make the connection, magnets secure them in place, and instantly users have longer battery life, loud crisp music, or a movie beaming on the wall. It works, and it works well. Here's a quick video with more details.
These aren't loose, they don't wobble, and users won't feel like it's going to fall off. The magnets are extremely strong. The entire thing is quite brilliant and by far the most impressive part of this phone.
Read: 14 Exciting Moto Mods for the Moto Z
Motorola and their partners have designed some awesome accessories for this phone, but at a cost. Here's the breakdown for those curious.
 JBL SoundBoost is available for $79.99
Moto Insta-Share Projector is available for $299.99
TUMI, Kate Spade New York, and Incipio Power Packs are available from $59.99 to $89.99
It's also worth noting that the Motorola "Style Shells" that add genuine leather, real wood backs, carbon fiber, ballistic nylon and other styles and textures to the back of the phone are on Motorola.com for $19.99-$25.
This is where my love-hate relationship with the Moto Z arrives. The mods are so easy that a 5-year old could use them, but they aren't practical. By itself this phone is sleek, thin, lightweight and quite nice. Add on a battery pack and it becomes heavier than any phone on the market, thick and clunky.
The Moto Z has a tiny 2,600 mAh battery and a large 5.5-inch display. As a comparison the Galaxy S7 is 5.1-inches and has a large 3,000 mAh battery. In order to get the Moto Z to last an entire day users need to buy a $60 battery pack that adds 2,200 mAh. This gets us plenty of battery life, but it's a big compromise. It makes the phone too heavy to use, uncomfortable to hold, and it charges extremely slow. It took over two hours, and only got me to 60%. That isn't enough. The charger in the box will fully recharge the phone from 0-100% in less than 80 minutes. See the problem?
The JBL Soundboost for $79 is pretty awesome. It snaps on and transmits sound in seconds, and even has a little kickstand. It has a built-in 1,000 mAh battery and once dead it will use the phone battery to keep the tunes playing. It gets plenty loud, to the point I found myself turning it down at times. There are little rubber feet on the kickstand too, so it doesn't slide around on the table. Those little fine touches are nice to see.
Last and certainly least, has to be the Instashare projector. It's extremely big, heavy, only lasts about an hour, and outputs video at only 480p resolution. Not even HD. Using the projector mod battery and the phone battery users can get through a 2-hour movie, but that's pushing it. For $299 there are comparable stand-alone projectors, and the same can be said about the speaker. It's a nice thought, but the compromise on everything else just outweighs the convenience for me, but others might enjoy it more.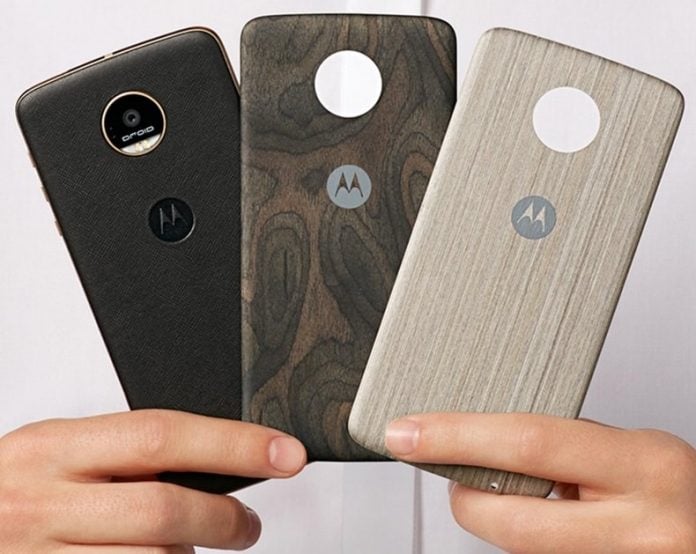 The only Moto Mods I see actually being useful that buyers would want to consider are the cheap Style Shells for customization, and the battery packs. Especially considering the Moto Z doesn't have very good battery life compared to other phones on the market. Below is a picture of the phone and the Incipio 2,200 mAh battery attached, sitting next to a Galaxy S7 Edge. It's big, heavy and not very practical.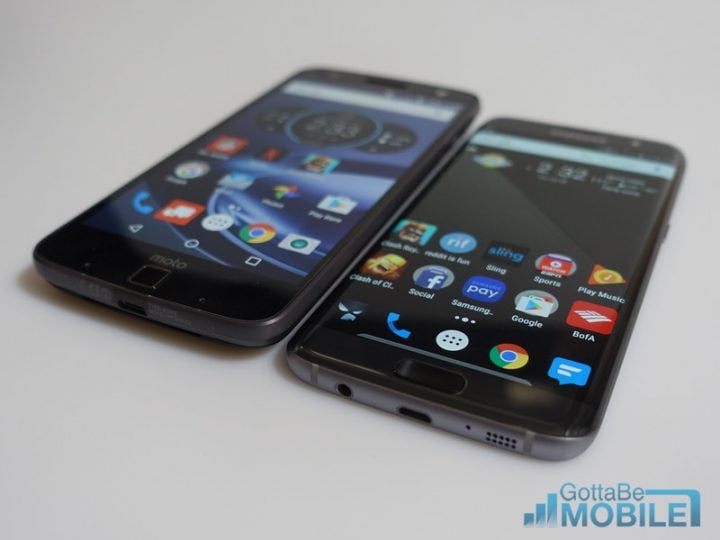 Moto Z Specs & Fast Charging
Users and potential buyers should know this phone is as fast and powerful as anything else on the market. It has top-tier specs for 2016, a fast processor, a good camera and more. Basically matching the Galaxy S7, HTC 10 and LG G5 in everything but battery life.
Moto Z Specs
5.5-inch 2560 x 1440 Quad-HD Display
Quad-Core Snapdragon 820 processor with 4GB of RAM
32/64GB storage with micro-SD expansion
Android 6.0.1 Marshmallow
13 Megapixel Rear Camera with Dual LED Flash, auto focus, OIS
5 Megapixel Front Camera with auto-focus, LED flash, wide angle
Metal Design with MotoMaker customization and MotoMods
USB Type-C Port with Fast Charging, and USB-C Headphones (no 3.5mm port)
2,600 mAh battery
3.5mm to USB Type-C adapter for headphones
Water repellent nano-coating
It isn't waterproof like the Galaxy S7, but there is a nano-coating that will save it from accidental splashes, so that's a plus.
One thing we do really love about the Moto Z is the fast charging. The USB Type-C port is reversible and can be plugged in both ways, and supports rapid charging that's faster than most older phones. Motorola claims users can get 8 hours of battery after just 15 minutes on the included "TurboPower" charger, which takes it from 0-50% very quick. This is a growing trend in smartphones and most flagship devices in 2016 have it too, but it's still worth mentioning. A quick drive home while charging is usually all it takes to get enough battery for the rest of the night.
Moto Z Camera
The camera has always been a weak link in Motorola phones, but not this year. While it might not be quite as fast or capable as the Galaxy S7, especially in low light, it's their best yet. The Moto Z has a 13 Megapixel camera with an f/1.8 aperture lens. It features image stabilization, 4k recording, HDR mode and everything you'd expect from a high end device. The Moto Z Force DROID however, has an even better 21 megapixel camera with phase-detection auto focus. We used the Moto Z Force for the photos below.
A quick double twist of your wrist instantly turns on the camera, even while the phone is off, and it quickly snaps photos. The auto focus isn't as fast as we'd like, and often times the screen would tell us to hold still while it captured the photo.
The results weren't the best we've ever seen, and the Galaxy S7 is still probably the best camera on Android, but the Moto X is certainly good enough for just about everyone. As an added bonus, this year the camera app received a major overhaul. It isn't plain and lacking in features like before. We have a nice clean interface, tons of controls, a full-out professional mode, auto mode and more. It essentially gives users great photos with ease, or complete control of everything for those who need it. The focus wasn't as fast as I'd like, and low light scenarios aren't the best we've seen either. Here are a few samples.
Those looking for an excellent camera experience should consider Samsung or the HTC 10. Not to say the Moto Z is bad, it just isn't as consistent as some other options. It also added multiple photos to the gallery as part of a burst "best shot" mode, which make digging through photos even more confusing, and wasted space.
Moto Z Battery Life & Performance
We'll start with the good news first, which is performance. The Moto Z has a powerful quad-core processor and 4GB of RAM, and runs nearly stock Android 6.0.1 Marshmallow. It's one of the fastest and smoothest phones I've ever used to date. The fingerprint scanner is fast and easy to setup. Everything about this phone is fast and a joy to use. It's like a Nexus experience, without all the software changes we often see from Samsung, LG or HTC. It's Android the way Google envisioned it, with a few helpful additions from Motorola.
Things like Moto Display for at-a-glance information, quick launch for the camera, hands-free voice controls and more. All of that is neatly integrated into stock Android. This means we should get quicker software updates, less bloatware, and a smooth experience across the board. Motorola hasn't been the best lately with software updates, so we'll have to wait and see.
We do have a lot of Verizon bloatware, but that won't be an issue on the unlocked model being released in the near future.
The bad part, though, is battery life. In an effort to make this phone extremely thin, and flat for the mods, battery life suffers. Thankfully it features quick charging because you're going to need it, and often.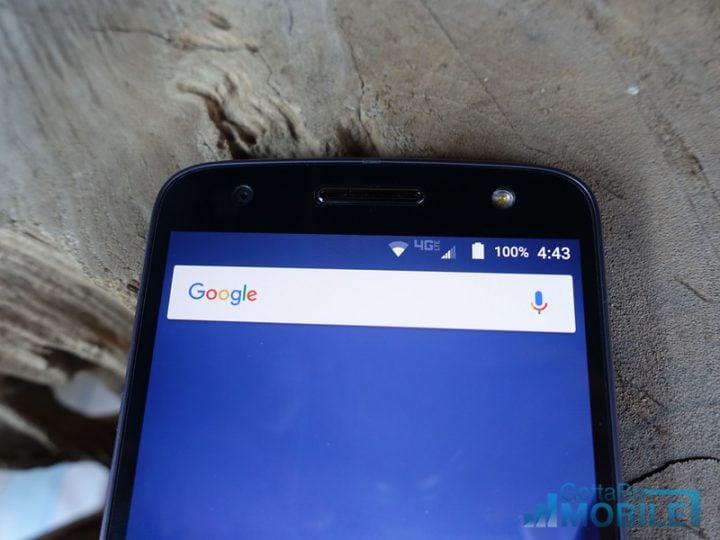 Under the hood we have a small 2,600 mAh battery. That simply isn't big enough for a phone with a 5.5-inch screen. As a comparison both the Galaxy S7 and HTC 10 have a smaller display with a bigger 3,000 mAh battery. They both last a lot longer too.
Long story short, the Moto Z barely lasts an entire day at best, and typically only had enough battery for about 3 hours of the all important "screen-on time." One day I managed to go 11 hours on a single charge with 2 hours of usage, but another day it was dead by 1:30 in the afternoon. Which left me searching for a Moto Mod battery pack. Then when I found one, it charged so slowly that by the time I got home the phone was only at 29%. The battery backs don't offer the same fast charging, and it felt more like a band-aid than anything. I still needed to use my wall outlet and charger.
The battery packs will still come in handy, and users will want fast chargers at home, in the car, and at work if you don't want to get caught with a dead battery. The Moto Z Force DROID has a bigger 3,500 mAh battery, however, which is comparable to the Galaxy S7 Edge. This lasted over 24 hours on a single charge, all day at work and overnight, and typically received a solid 5 hours of screen on time. It's a much better route, but only available on Verizon Wireless.
Final Thoughts
In closing, it's hard to recommend the Moto Z to anyone unless they plan to buy the Moto Mods, or are on Verizon and can get the Moto Z Force DROID. While it has a lot to offer, great performance, clean software and a decent camera, the design and battery life all had to be compromised to make the modular accessories come to life.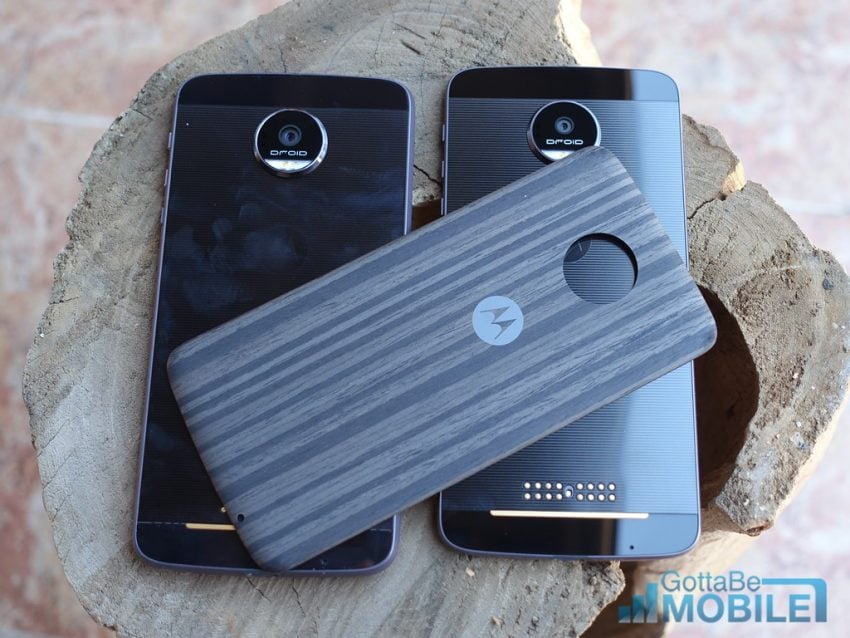 In a market with tough competition from Apple with the iPhone, a better phone across the board with stellar battery life, or the Galaxy S7 with one of the best cameras, or even the sleek HTC 10, the Moto Z falls short in a few areas for the price. Sure $624 is a little less than other phones on the market, but after buying some Moto Mods those savings go out the window.
The entire idea behind Moto Mods is wonderful, they work amazingly well and are dead simple to use. Aside from showing them off and having a little fun the compromises far outweigh any benefits. On the other hand, Motorola claims these mods will work with the next Moto Z in 2017, so at least potential users are buying into a platform with future support.
At the end of the day the Moto Z isn't a bad phone, it just isn't one of the best either. If buyers can live with average battery life or love the idea of buying a bunch of mods, accessories, style shells and more, it's still a plenty capable smartphone with some potential upside.

As an Amazon Associate I earn from qualifying purchases.