MOTOACTV Smartphone Gets Smarter With Facebook, Twitter Integration
Though Motorola's MOTOACTV smart watch is among one of the most polished Android wearable accessory on the market today, the device to many prosumers has been less of a smart watch than rival offerings from companies such as WIMM or Sony but is regarded more as a polished fitness accessory thanks to various workout modes, ANT+ integration, performance-driven music and track selection, and pedometer functionality. In fact, when the device was released last year and up until now, it's 'smart' features were more limited, allowing users to only view and read incoming text messages and see and answer incoming calls. Rivals allowed for more robust micro-app integration, such as Facebook, Twitter, and email functionality. Now, Motorola is making its smart fitness watch smarter, boosting it to true smart watch moniker by adding more connected features beyond just fitness tracking.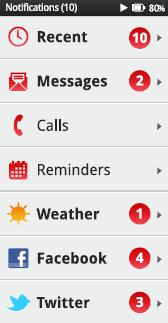 According to the Motorola team, here are some of the new features that come with the latest software update:
New Views, More Options for Golf – Added tee location options, more choices for ball lie marking and the ability to track the distance of your putts. We also extended the club distance range in Clubs Profile to better accommodate more players.
More Flexible Workout Planning – You can now define your targets for each stage of any activity including running, walking, cycling and more. If you're a runner, you can set a moderate warm up pace for the first 15 minutes, kick it into high gear for the next 30 minutes, and then set the pace for a 10 minute cool down.
New Heart Rate Choices for Fitness Zones – You can now have dedicatedheart rate zones for any activity. Specify which types of zones you'd like to use for each workout (basic, Carmichael or custom). Allow MOTOACTV to update your max heart rate, or stay in full control by manually updating your zones and heart rate metrics.
See Facebook and Twitter – Get wall posts and tweets directly on your MOTOACTV.
Start Key Is Now a Smarter Key – If your display has gone to sleep while you're working out, wake it up by pressing the start key.
Add More Custom Activities, Better Accuracy – Add and track as many new activities as you want – quickly and easily, and know that your calories burned are even more accurate than ever.
Better Views of Your Post-workout Map – Zoom in and pan out on route details after your workout. Touch "Show Route" on the workout summary screen, then touch the screen to zoom in. Pressing and holding on the route screen enables panning.
Easier Wi-Fi Network Setup – You can run, but your SSID can no longer hide! If your Wi-Fi network's name (SSID) is hidden, you can still configure your MOTOACTV.
MOTOACTV owners will need to plug in their smart watches with a micro USB to USB cable to their PC or Mac and the update will happen that way. There is no direct way to install software updates–unlike on Motorola's smartphones–on the MOTOACTV smart watch itself. The update will take the software version to 7.2.
For the Twitter and Facebook notifications to work, users will–in addition to updating their MOTOACTV watch–need to download the corresponding apps on Google Play–search MOTOACTV and download the corresponding apps for Twitter and Facebook plugins. When I tried this late Thursday night, the apps were not yet available on Google Play when searched on my Motorola Droid RAZR Maxx on Verizon Wireless.
Still missing from the feature list for the MOTOACTV to be a useful smart watch for business types is email integration to get notification and preview of emails. While you may not want to read your email on the small display on your wrist, being able to perhaps see the sender's name/email address, the subject, and a few lines of the body in the preview may be a nice feature to have for a future software update as it will allow users to quickly glance at their watch when an email alert comes in and then they can decide whether or not to whip out their phones. This would also allow users to be a bit more discrete about checking for an important email message they're expecting if they're out with company or sitting in a meeting without looking like they're focusing on something else with their phone out.

This article may contain affiliate links. Click here for more details.