MotoHeroz Gets Big Update, Goes Free for a Day
Ubisoft and RedLynx brought MotoHeroz to the iPhone and iPad in March, and now the game is free on the App Store for a limited time to celebrate a massive update that has come its way today.
The update to the iPhone and iPad versions of MotoHeroz bring more tracks and more cars to the game. The update also lets players participate in up to three online friend leagues at once.
MotoHeroz was first released as a WiiWare title before making its way to the iPhone and iPad, but it works well on Apple's mobile platform. The game is very similar to the developer's Trials HD and Trials Evolution games, but it has a more cartoony art design. The iOS game is no less challenging than the Xbox 360 titles offering many, many hours of game play.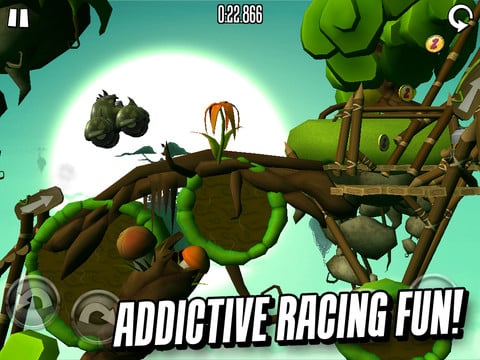 The goal of the game is to complete each track with the fastest time while also collecting coins and treasure scattered throughout the tracks. The main mechanic in MotoHeroz, as in Trials, is leaning the vehicles forward or back to pass over obstacles. It doesn't sound difficult, and it isn't at first. It gets more difficult later on when just going straight through each level is likely to crash the vehicle.
Despite its difficulty, MotoHeroz is worth checking out while it's free. Trials Evolution is one of the best games on Xbox Live Arcade, and MotoHeroz is the closest iOS games can get at the moment. Just don't blame us if it induces iPad-throwing rage.