Motorola Allegedly Working On Smaller X Phone, Droid Blast Feature
A new rumor from Hot Hardware says that Motorola is working on a smaller, "M" version of the rumored X Phone and a new sharing feature it calls "Droid Blast."
The source says that Motorola will release a smaller version of the rumored X Phone at the same time as the larger version. The Motorola X Phone may feature a 4.8-inch 1080p display, but the M version will likely have a smaller display with many of the same features and specs.
Last year Motorola introduced the RAZR M alongside the RAZR HD and RAZR MAXX HD. The RAZR M had the same specs as the larger models, but it had a smaller 4.3-inch qHD display and just 8GB of storage space. Presumably an "M" model of the X Phone would follow the same pattern.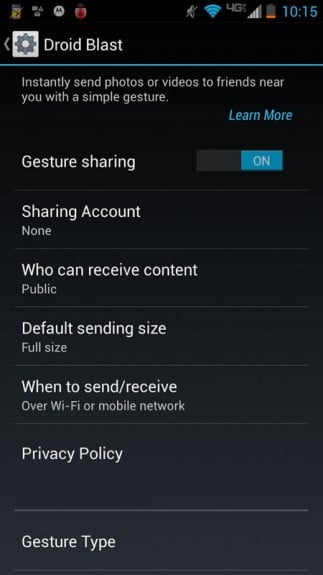 Recent images of an unnamed Motorola device on AT&T could be the rumored X Phone, but it's not clear how far along the phone is. It seems unlikely that Google would announce the phone at Google I/O next week, but it is a possibility.
Hot Hardware also obtained a screenshot of a new Droid Blast that Motorola is working on for future devices. The screenshot of the feature says that it will let users "Instantly send photos or videos to friends near you with a simple gesture." The feature lets users set their own gesture to share files either over Wi-Fi or a data connection.
Droid Blast may function similarly to Android Beam, though without the NFC component. Not much else is known about the feature, but it will likely show up in a future Droid phone on Verizon.
Verizon owns the Droid brand for smartphones, so even if Motorola wanted to bring the Droid Blast feature to an X Phone on other carriers like AT&T it will likely have to change the name.