Motorola Droid 3 And Xoom LTE Inch Closer to Launch
Over the weekend the Motorola Droid 3 and the Motorola Xoom LTE were both added to Verizon's MAP (Minimum Advertised Price) list which means that launches for both could be just around the corner.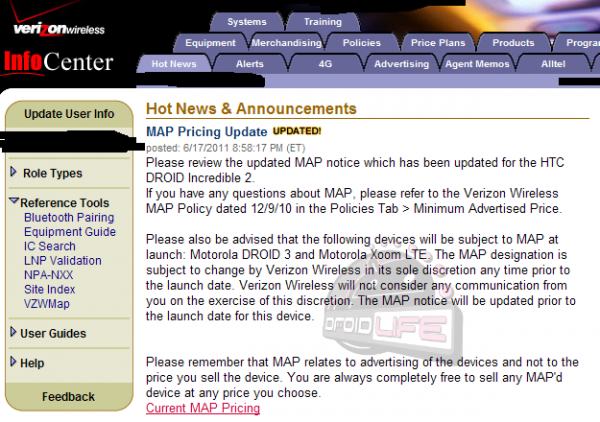 There have been plenty of signs that a Droid 3 launch is imminent. First, we had heard July 7th as a possible release date which is very possible, especially if Verizon is trying to cushion the introduction of its tiered data plans which are rumored to hit the same day. Motorola also launched the foreign equivalent of the Droid 3, the Milestone 3, in China.
Its addition to the MAP list is just another sign that Motorola and Verizon are just waiting to get this thing out onto shelves.
As for the Motorola Xoom LTE listed here, it's unclear whether this is the current Xoom model with a 4G radio or if this is another device entirely. Remember, we saw a device purported to be the Xoom 4G in an official Verizon commercial last week which may mean that the Xoom LTE is actually a different looking device.
This is also a fairly good sign that a 4G LTE upgrade to the current Xoom might be close. We know many of you out there are pretty upset that it hasn't arrived yet and it's looking like your day in the sun might finally arrive.
Via: Droid-Life

As an Amazon Associate I earn from qualifying purchases.