Motorola Droid Bionic Ad Confirms September Release Date
So much for that possible surprise release of the Motorola Droid Bionic in August. With evidence for a September launch date mounting, we can all but forget about that August 26th release date that we heard about when the rumored full retail price of the device leaked out a short time ago. Since then, it's been nothing but September, September 8th to be exact and from the looks of things today, Motorola and Verizon will be waiting until next month to put the phone out on shelves.
Phandroid has posted an image, taken from a Droid Bionic ad called 'Armor', that shows off very blatantly the words 'September' which apparently flash at the very end of the teaser. We'll take their word for it since we can't actually see the video ourselves.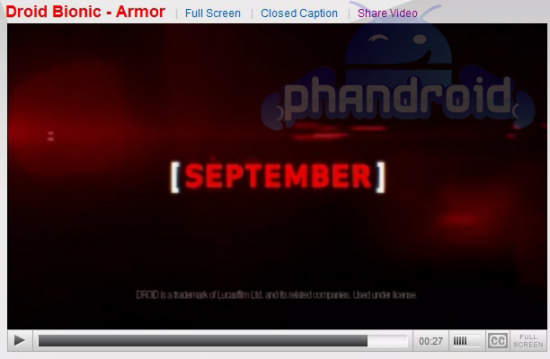 Besides the September launch date confirmation, it's also a good sign that we're on track for launch which you probably could have imagined from the mountain of leaks we've been piled under for the last couple of days.
Just yesterday, we saw some photos of the Droid Bionic leak out showing off potential battery life and shortly before that, we saw the very first full length video of the upcoming 4G LTE smartphone leak out.
We're getting close my friends, can you taste it?

This article may contain affiliate links. Click here for more details.