Motorola Droid Bionic Appears in Best Buy's September Buyer's Guide
The Motorola Droid Bionic launch is getting closers. This week the Motorola Droid Bionic makes an appearance in the Best Buy Mobile Phone Buyer's Guide for September.
We don't have an official release date for the Motorola Droid Bionic, but the inclusion of the device alongside the majority of Verizon's 4G LTE lineup solidifies the September lineup. Based on the information we currently have, the Motorola Droid Bionic will launch on September 8th.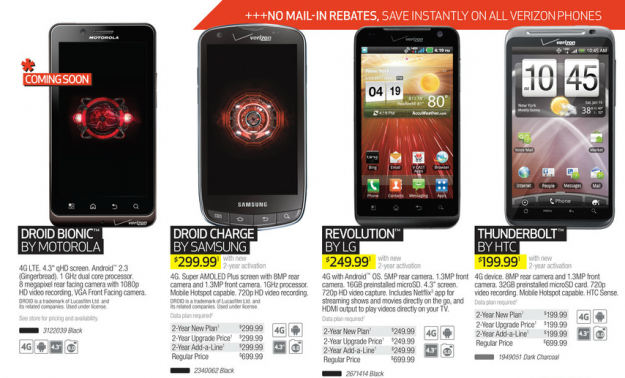 The Motorola Droid Bionic is a 4G LTE smartphone running Android 2.3 (Gingerbread) with a dual core 1GHz processor. This is the first dual core 4G LTE smartphone on Verizon's network.
The Droid Bionic has a 8MP rear facing camera that can record in 1080P and a VGA quality front facing camera that sits above the 4.3″ display.
There is no official pricing on the Droid Bionic, but we are expecting a sub-$600 full retail price with the possibility of a $299 two year contract price. This price has made an appearance in several locations now, and while the Best Buy ad doesn't list a price, the Bionic is furthest to the left, next to the $299 Samsung Charge.
We asked last week if you would still want to purchase the Droid Bionic at $299, and an astonishing 68% of you said that you would pass on the device at $300. It's not surprising that so many of you don't want to get the Bionic at this price, considering the iPhone 5 will cost $199 and other competing Android devices aren't as expensive.
As Adam Mills has pointed out before, Verizon is charging a premium to get on their 4G LTE network. Instead of charging you a monthly fee, the phones are more expensive upfront.
Via TheDroidGuy

As an Amazon Associate I earn from qualifying purchases.