Motorola Droid Bionic Not Hitting Sam's Club Until September?
Update: The source is saying that this document actually refers to Sam's Club and not Costco as was originally thought.
More evidence regarding the Motorola Droid Bionic's launch date has surfaced today and unfortunately it's not good. You may remember that we told you that there was a possibility that the Droid Bionic wouldn't be launching in September, well, Android Central now has some physical evidence from Sam's Club that seems to point to that as being possible. So what you see here is a document that clearly says that the Motorola Droid Bionic's launch has been pushed to September. So, what does this mean exactly? Well, let's read into it a little bit.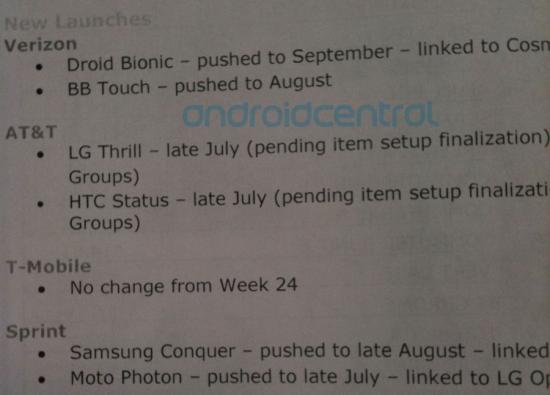 First, it could mean that the Droid Bionic isn't launching anywhere until September. We find that to be highly unlikely, but it's possible. It's also that the phone might be launching late at Sam's Club. Remember, August 4th has been the rumored launch date and a device that we think is the Droid Bionic is set to become unclassified at the FCC on August 7th.
So don't get too distraught yet, retailers sometimes have different launch dates and it's very possible that the Droid Bionic will launch first on Verizon and then expand out to other outlets later on in August and even in early September.
Still, this is the second time we've seen September pop up so don't be shocked to see August 4th pass without a release. We've got our fingers crossed and are hoping that that isn't the case. You should be doing the same.