Motorola Droid Bionic Official Specs Finally Revealed
We still have a wait ahead of us before the Motorola Droid Bionic hits Verizon's 4G LTE network and shelves across the United States but that doesn't mean we aren't going to see some interesting stuff pop up over the next couple of weeks. In fact, today, the official specifications for the new Droid Bionic have surfaced as MyDroidWorld was able to pull a spec listing from the MotoDev page. What we see here is what we should expect when the Droid Bionic arrives in a month's time. Keep in mind this listing has the old Droid Bionic model number, XT865, but these are likely the official specs.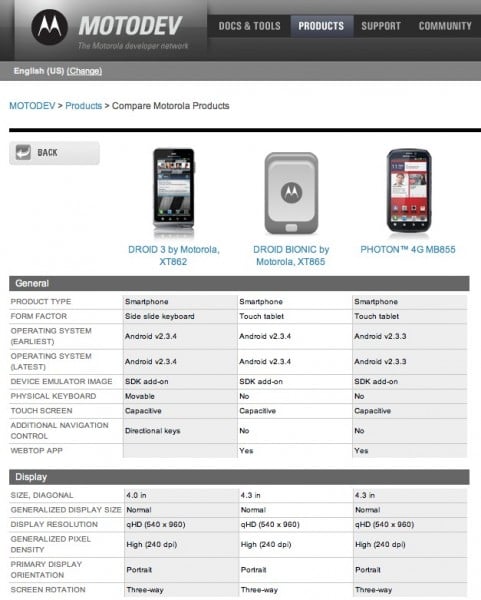 Alright, so here's the good stuff people. The Droid Bionic is going to be rocking a 1GHz OMAP4430 dual-core processor when it arrives which means that the Tegra 2 is out, as we expected. It'll also rock a 4.3-inch qHD display, 1GB of RAM, 8MP rear camera with 1080p video shooting capabilities, a VGA front facing camera, HDMI 1.4, webtop capabilities ala the Motorola Atrix 4G, and it will be powered by Android 2.3.4.
So, pretty much what we expected but it's nice to finally have it on paper isn't it? By no means are these specifications official but we have a pretty good feeling this is what we're going to see on board when the Droid Bionic finally arrives in September.
After seeing these, anyone going to be buying it? Were you hoping for a 4.5-inch display? Too little too late?
Let me know.
Via: Droid-Life

As an Amazon Associate I earn from qualifying purchases.