Motorola Droid Bionic on Track for Summer Release with "New Updates"
Motorola has already told consumers that the Droid Bionic is coming out this summer and according to a tweet today, it appears that that summer release is still on track. The company also confirmed that it was working on some new updates but as of right now, it's unclear if it's referring to the upgrades that we know about already or new, still undetermined ones.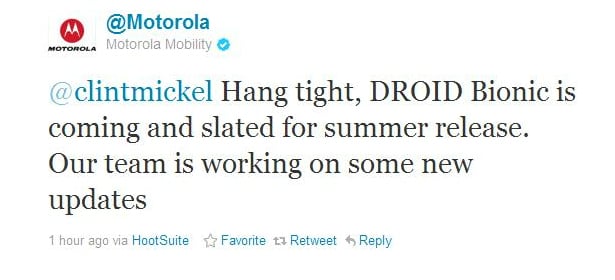 We know that the Droid Bionic is going to have a different form factor than the device we saw at CES and it might just be the 4.5-inch monster that we saw appear in photos a short time ago. Or, if this tweet indeed refers to new updates, something that we haven't seen yet.
In addition to these updates, Motorola also confirmed that the Droid Bionic is still "slated" for a summer release. Of course, like every smartphone release, that window is subject to change but it's looking like it will be out this summer.
As far as when, August seems like a pretty good bet considering Moto and Verizon are going to be pushing out the new Motorola Droid 3 some time in the very near future and they wouldn't want the releases to clash.

As an Amazon Associate I earn from qualifying purchases.