Motorola Droid Bionic Rumor Roundup: Hardware, Release Date, Pricing
Many of you have a big decision coming up as far as a new smartphone is concerned. Will it be the mysterious Samsung Droid Prime aka Google Nexus Prime aka Samsung Stratosphere Aka Who Knows? Will it be the highly anticipated iPhone 5 which I covered in a similar roundup last week? Or will it be old faithful, the Motorola Droid Bionic, Verizon's first 4G LTE phone?
If you're at least thinking about the latter of the three then you've come to the right place.
The Droid Bionic has been a heavily leaked smartphone. We've seen photos, we've seen video. And frankly, we've seen it all. Still, the phone isn't official and which means we're left with a rumor pile as tall as Everest to pick through.
Well, I'm here to make your life easier and so I wanted to condense those rumors onto one page which should make your decision a little easier when the time comes.
Hardware
The Motorola Droid Bionic was originally announced back at CES in January of 2011. That's right. If you haven't been following along, it has taken Motorola and Verizon a good nine months to release a phone that we thought would be out in May. Back in January, the phone still had a dual-core processor and 4G LTE, but it also had some different specifications including a completely different form factor, Android 2.2 Froyo, 512MB of RAM, a Tegra 2 processor, and a 4.3-inch qHD display.
Then, Motorola and Verizon announced that the Droid Bionic would be delayed in order to make it better. Who knew that we would be waiting until September to see this device get released?
After weeks of waiting, photos emerged giving us a glimpse at the new Droid Bionic which apparently was going to be coming with a 4.5-inch display similar to the Samsung Infuse 4G.
Then. more waiting.
That is until, a spec listing from the MotoDev page seemed to confirm a bunch of the Droid Bionic's specs, specs that were then backed up by a leaked manual. No 4.5-inch screen, no Froyo. And while we still don't know if these specs are official, they are more than likely what we're going to see on the Droid Bionic when its released.
Screen Size: 4.3 qHD with 960×540 resolution
Processor: 1GHz dual-core  (likely OMAP4430)
Memory: 1GB RAM, 16GB internal storage, 16GB pre-installed MicroSD card
Cameras: 8MP rear camera with 1080p video capture, Front-Facing Camera
Other Stuff: microHDMI, 4G LTE radio, New Droid 3 style form factor
Not far off from what most of you were probably expecting and definitely a phone that is still worth considering.
Release Date
The Motorola Droid Bionic's release date originally was thought to be in May but obviously, with the delay, that did not happen. Things were quiet and then we had our sights set on August 4th. That didn't happen either. All signs then started to point towards a September release and Motorola's CEO then confirmed that to be true.
After originally getting announced in January, the Droid Bionic was now going to be launching in September. But when exactly? Sanjay Jha, Motorola's CEO, failed to give a specific date and even now, just days away from September, we still don't have a specific date to look forward to. A rumored August 26th date came and went as well. That would have been a nice consolation prize for those that waited but alas no dice.
The front runner now is September 8th. It's a Thursday, Verizon loves Thursday's and it's in September. Oh, and there is also some evidence that backs that date up.
The good news is that September 8th is the only firm date we've heard. The bad news is that Verizon and Motorola have yet to confirm it or put the phone up for pre-order so we're still in the dark.
It's looking promising though.
Pricing
Pricing for the Droid Bionic is also still unknown but like the release date, we have a pretty good idea as to what kind of pricing we'll see from Verizon when the phone does in fact arrive. The rumored on-contract price for the Droid Bionic is $299 and the off-contract price will likely be a hair less than $600.
I've argued that the price is far too expensive for a phone launching this late after it was announced and an overwhelming majority if you agreed. That being said, the only evidence we have is that it will be coming for $299 and I would assume that is how much Verizon is going to be charging for it. After all, it's their first dual-core 4G LTE smartphone.
Costco is also rumored to be offering the Droid Bionic for $299 but will throw in some extra goodies including:
Standard Bionic Dock
In Car Navigation Dock
Extra Battery
Battery Charger
Not official but that would definitely be the place to pick this thing up if true.
Software
Originally, the Motorola Droid Bionic was supposed to be coming with Android 2.2 Froyo on board but now that we're in August, it's only right that it will be coming with out with Android 2.3 Gingerbread which has been confirmed by the spec sheets as well as by a lengthy video walkthrough of the handset. We also now know that it will be coming with the same version of the MotoBlur UI that is running on the Motorola Droid 3.
However, instead of the choppiness that I found on the Droid 3, it appears that MotoBlur UI will run a lot more smoothly, probably due to the Bionic's dual-core processor/1GB of RAM combo.
Very promising but still, it won't have the vanilla Android experience that many of you love.
Accessories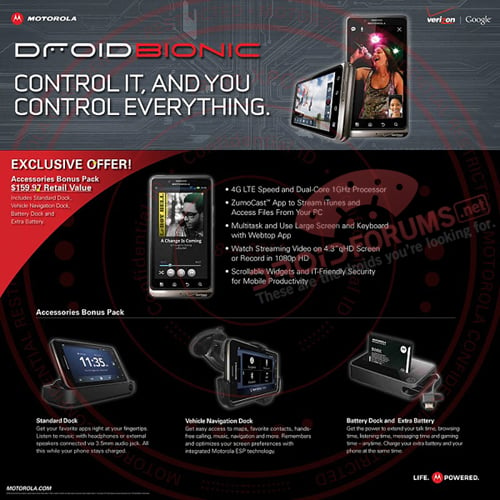 Last but not least, the Droid Bionic has been confirmed to boast webtop solutions and will apparently be able to work in conjunction with an HD docking station – a multimedia desktop dock , a laptop dock which will work similar to how Motorola Atrix 4G's, as well as a  Adapter for Webtop Application which will give users an inexpensive way to access the Droid Bionic's webtop application.
So, if you're a fan of accessories, the Droid Bionic will not be short on them at all. And hopefully, if that Costco deal holds up, you'll be able to get a few of them bundled in for cheap.

As an Amazon Associate I earn from qualifying purchases.