Motorola Droid RAZR HD and RAZR M Developers Editions Up For Pre-order
Yesterday Motorola announced a trio of new Droid RAZR smartphones for Verizon. While average users will want to wait for the Verizon subsidized versions, developers have another option.
Motorola has the Droid RAZR M Developer Edition available for purchase on its website for $549.99. The Developer Edition of the smartphone isn't tied down to a two-year contract, and is for developers and users who want to tinker with the phone. Developer Edition phones come with an unlocked bootloader which make it easier to root and install ROMs on the phone.
Motorola will also offer a Developer Edition of the Droid RAZR HD, though we don't know when or how much it will cost. We assume the RAZR HD will cost more than the RAZR M, and it should come out sometime before the holidays.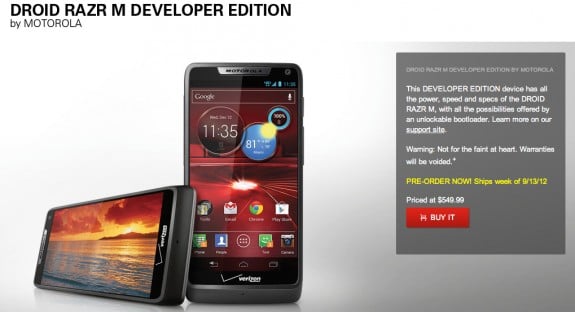 These devices will likely have limited warranties, as Motorola expects users to break them anyway. There is little reason beyond breaking warranties to buy a developer edition of any smartphone. The only other reason we can think of is to upgrade a phone without going through the carrier.
A Developer Edition phone is actually a good idea for Verizon customers who want a new phone but want to keep their unlimited data plans. By taking an upgrade from Verizon users will have to switch to the new Share Everything plans which will result in higher prices for individual users and less data. Users can add a Motorola Droid RAZR HD Developer Edition to any plan without forcing the switch, however.
Suddenly $600+ for an unlocked smartphone with unlimited 4G LTE data doesn't sound like a bad idea. The unlocked bootloader will even make it easier to install Android 4.1 Jelly Bean on the device, which is a nice plus.