Motorola Droid RAZR HD Shows Up on Cellebrite System With Official Model Number
After numerous leaks, the Motorola Droid RAZR HD, which was previously known in early rumors as the Droid Fighter, is now beginning to show up on third-party Cellebrite systems. It's still unclear when the phone will officially be launched, but the Cellebrite terminal does give an official model number of XT926. The Droid RAZR HD will be Motorola's and Verizon's answer to the recent slew of HTC devices, including the HTC One X for AT&T (One XL), the HTC EVO 4G LTE on Sprint, and the T-Mobile HTC One S. As Verizon has stated that it would not be offering any of HTC's recently announced smartphones on its network, the Droid RAZR HD hopefully should give customers on Verizon's network something to look forward to.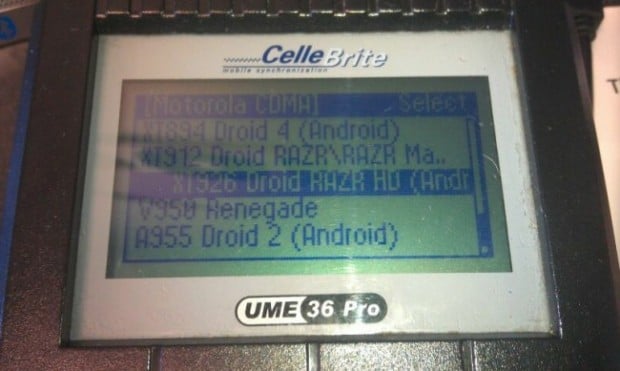 The Cellebrite listing was originally spotted by DroidRZR. 
Previously, the device was rumored to have a 4.6-inch 720p HD display, which is a bit smaller than the 4.7-inch display on the One X and the 4.8-inch screen on the Samsung Galaxy S III. It's unclear if Motorola will continue to use its Super AMOLED Advanced display with PenTile technology, like on the current RAZR and RAZR HD. Other features include a Qualcomm Snapdragon S4 processor, 1 GB RAM, and either a 12- or 13-megapixel camera along with 4G LTE and Android 4.0 Ice Cream Sandwich.
Motorola is also rumored to be revamping its Webtop software for connecting the phone to a compatible dock, Lapdock, or Webtop-enabled accessory to make it smoother and more in line with Android Ice Cream Sandwich both on the phone and on the Webtop side.