Droid RAZR Review: Editor's Choice
Back in the day the Motorola RAZR was the phone to have, even though the popular phone had some pretty serious issues. But there was a time when you couldn't go anywhere without seeing the thin flip phone in someone's hand, usually in pink.
The newest RAZR delivers where it's important, earning our Editor's Choice award.
Motorola has decided to revise the brand for the Android era, delivering a smartphone that lives up to the aesthetic ideal of the RAZR name without burdening itself with baggage from the past. The Droid RAZR is a thin phone that's so light you may suspect it runs on fairy dust and hopes, not a dual-core processor and an all-day battery.
At $299 it's one of the more expensive phones for Verizon Wireless, but between the speedy 4G LTE network, robust performance, and beautiful 4.3-inch display, this premium phone could be worth the price. Most Motorola RAZR buyers will pay less than this since Android devices typically get marked down significantly shortly after they are released.
Pros

Snappy performance
Beautiful qHD display
Lightweight, this, attractive design
Long battery life

Cons

Unimpressive cameras
Annoying bloatware
Design and Hardware
The Droid RAZR is one of the thinnest Android smartphones around, measuring 0.3 inches thick. Like the Droid X, the top of the phone adds a few millimeters to accommodate the camera, presumably. Since the RAZR is so light — 4.5 ounces — this makes the phone feel a bit off balance since the top is noticeably heavier.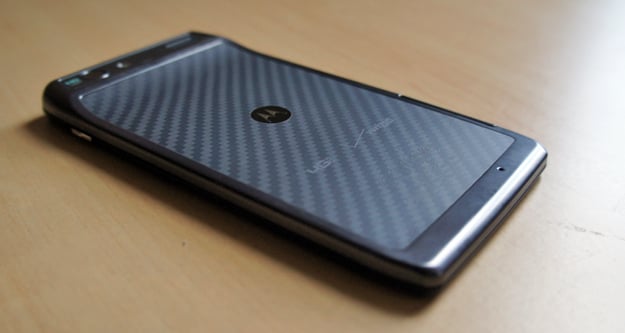 Given its size (5.2 x 2.7 inches) and the big, gorgeous 4.3-inch display on the front it's hard to believe that it weighs so little — 4.5 ounces. If having the thinnest, lightest phone around is your thing, the RAZR aims to deliver.
The RAZR's holdability rating is high mostly thanks to the light weight, though I am not a fan of the slightly boxy edges. I prefer a smooth curve as it's more comfortable. The RAZR isn't uncomfortable to hold, all the same.
Inside the impossibly thin and light casing the Droid RAZR holds some impressive hardware:
CPU: 1.2-GHz TI OMAP 4330
RAM: 1GB
Internal Storage: 16GB
Display: 4.3-inch, qHD 960 x 540 resolution
Cameras: Rear – 8MP; Front – 1.3MP
Battery: 1780 mAh battery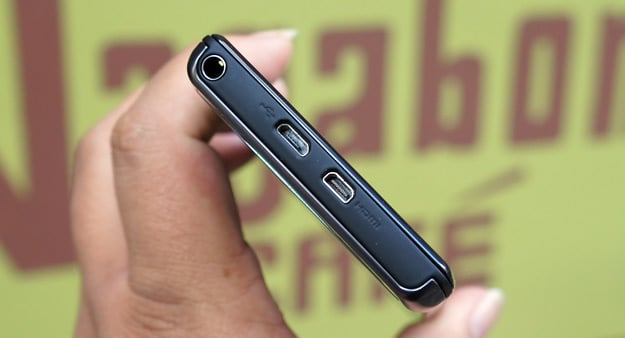 MicroUSB and mini HDMI ports sit on top with the headphone jack. You'd typically find the SIM card and microSD card slots under the back cover, but the RAZR's battery is not user-accessible so they're concealed under a cover on the left edge.
The power button on the right edge sticks out just enough to find it by feel, as does the volume rocker. There's no dedicated camera button.
Display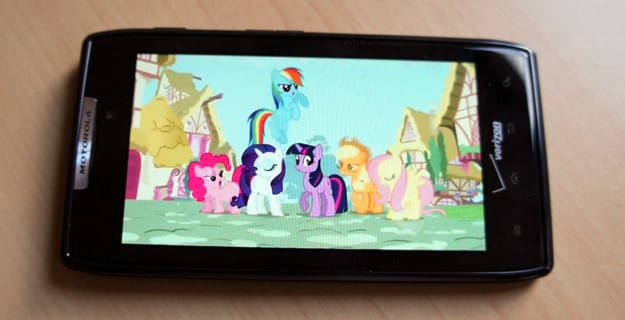 The RAZR's 4.3-inch Super AMOLED Advanced display is impressive. The 540 x 960 qHD resolution really suits the screen size, offering more lines of text on web pages and in books, crisper fonts in some cases, and better HD video viewing.
Colors are nice and deep and offer high contrast. However, while colors are bolder than the HTC Thunderbolt, they're also less true to reality due to the contrast. That said, watching HD video is a pleasure on this screen and viewing angles are quite wide.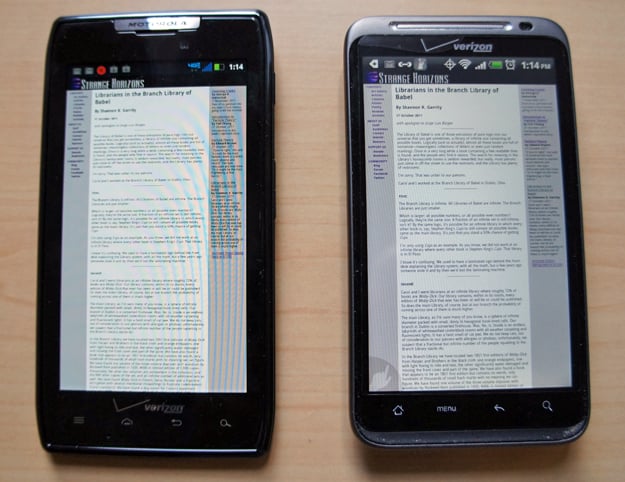 Out in the sun the display did well with brightness up high. To be fair, on a fall day there usually isn't very strong direct sunlight anyway, but I still didn't have to step into a shadow in order to read the display on either dark or white backgrounds.
Performance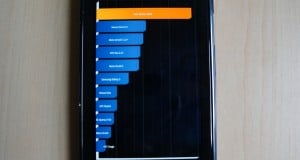 Does a phone really need a dual-core processor? The 1.2-GHz TI OMAP 4330 CPU inside accounts for a portion of this phone's high asking price, so it needs to be worth it.
Having that extra power makes the Droid RAZR a super snappy phone. Those times when I had to wait for it to do something were the result of communicating with the network or the Wi-Fi hotspot, not so much the processor. Opening apps, switching between them, and going from an app to the Home screen all happened quickly.
Playing games, such as Madden NFL 12 mobile (pre-loaded) and Plants vs. Zombies, really shows off the CPU's power. In Madden the 3D graphics rendered beautifully, from the players to the stadium and the crowd. I didn't notice any lag or skipped frames.
Motorola's Motoblur skin employs a lot of visual flair, and on a less robust phone that might slow things up. Not so with the Droid RAZR.
In benchmark testing, the RAZR scored a bit higher than the Droid Bionic in both Nenamark tests and in Quadrant. Compare their scores to a single-core smartphone like the HTC Thunderbolt and you see a significant difference:
Droid RAZR

Nenamark 1 — 48.3 FPS
Nenamark 2 — 27.2 FPS
Quadrant — 2637

Droid Bionic

Nenamark 1 — 47 FPS
Nenamark 2 — 27.7 FPS
Quadrant — 2228

HTC Thunderbolt

Nenamark 1 — 30.3 FPS
Nenamark 2 — 11.7 FPS
Quadrant — 1220
Even if you're not a gamer, having a dual-core CPU is beneficial. It means a smooth, fast experience with the OS (which will be even more important when the Droid RAZR gets its Ice Cream Sandwich update) and future-proofs it against apps that will grow more robust and processor-intensive with time.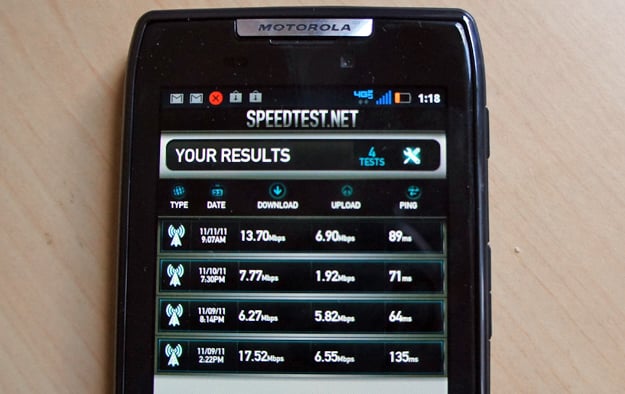 In addition to a fast processor, this phone also has the benefit of being on a fast mobile network. In New York City I saw download speeds ranging from 6.27Mbps to 17.52Mbps and upload speeds ranging from 6.9Mbps to 1.92Mbps on Verizon's LTE network.
I streamed an episode of CSI from CBS.com that wasn't optimized for mobile and the quality was good overall. There were only a couple of hitches. High quality video on YouTube played smoothly with no pauses. Flash-based games ran well, too.
Battery Life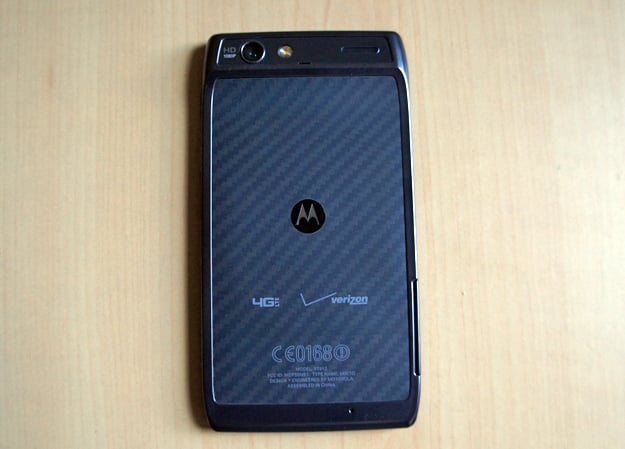 Battery life impressed me, given how thin the phone is and the powerful guts. It's rated to last for 12.5 hours of talk time and, for many users, all-day battery life seems a possibility.
On the first day the RAZR lasted from 8am to 12:30am with a sliver of juice left. It had been on Wi-Fi for a few hours, but mostly on 4G LTE. In that time I made about 45 minutes of calls, played YouTube videos, took pictures and video, played a few games, added all of my social networks to the Home screen widget (which updated regularly), and downloaded several apps.
Looking at the battery info, I saw that Wi-Fi used up the most power. In the settings, there are three notification options instead of just the one. Wi-Fi was constantly ready to alert me, thus draining juice.
The next day I unchecked all of these options and kept Wi-Fi off. At 11 hours and 39 minutes of use I was down to 20% battery. I used it as I had the day before.
My usage probably qualifies as medium, and I'll be keeping an eye on the battery life over the next few days as I continue to use the phone to see how it fares. Heavy users may not see as long a life, especially if they have more services pulling down data in the background. If this sounds like you, keep the Wi-Fi on so the phone can hop onto a hotspot when in range. If you keep the notifications off it will drain less power.
Unlike almost every other Android phone, the battery on the Droid RAZR is not user-accessible, so you can't buy an extended battery if you're a power user.
Call Quality
Calls made with the Droid RAZR were clear on both ends. I was surprised at how clear voices sounded even when making mobile to mobile calls. I was able to surf on 4G while talking to a friend.
One wouldn't suspect that the single speaker on the back of the phone next to the camera is as powerful as it turned out to be. The volume gets impressively loud for such a slim phone. I was able to listen to music and calls with moderate background noise and still didn't have to turn the volume up to 100%. More importantly, the alarm was loud enough to make me up in the morning despite a high-speed fan sitting right next to the bed.
Audio quality isn't superior like the HTC Rezound, but it's about on par with the iPhone.
Cameras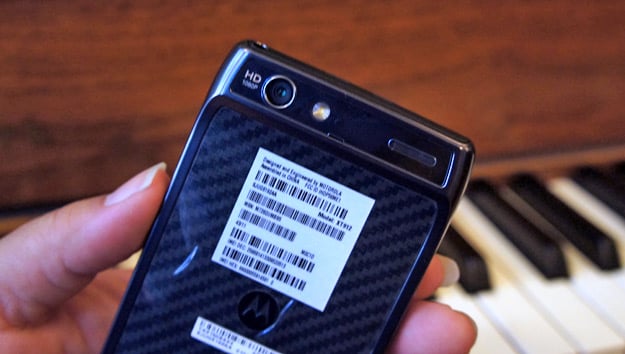 I wasn't impressed with the image or video quality of the RAZR's rear-facing camera when taking pictures indoors. There's noticeable noise and images lack sharp details. The flash doesn't usually help. Outdoor shots fared better.

Click to Enlarge – More Test Pictures in the Gallery
The camera app offers some decent settings and modes, but nothing out of the ordinary for Android. It's not consistent when it comes to speed. Sometimes it takes shots fast, but many times it took a while to focus even when there wasn't much movement to confuse it.
The front-facing 1.3MP camera doesn't take super sharp shots, either. When I tested video chatting on Google Hangouts the image was clear, if fuzzy at the edges. If you're in good light, the camera does well for this purpose.
Video tests revealed the same issues with image quality. I do like the video stabilization feature for the camcorder, though. However, in the first test video you can tell when the software has corrected for shake with a wobbly image,
Software and Apps
Currently, the Droid RAZR is running Android 2.3.5 Gingerbread. Motorola and Verizon Wireless promised an upgrade to Ice Cream Sandwich that is coming in a few months.
The version of MotoBlur on the RAZR is the same as what ships on the Bionic. And just as with that dual-core phone, the visual elements don't slow the RAZR down.
MotoBlur isn't as slick as HTC Sense, nor does it have as many useful widgets. But this version is much better than on Motorola phones of the recent past. The eye candy is a little overdone in some areas, such as the widgets that flash at you as you switch Home screens.
One of the upgrades from stock Android is that the recent apps (accessed by tap and holding the Home button) aren't restricted to the last 8 in use, but the last 16. If you're a heavy multitasker like me, this is a nice touch.
There's an even split between useful pre-loaded apps and bloatware here:
Amazon Kindle
Blockbuster
GoToMeeting
Let's Golf 2
Madden NFL 12
MotoACTV
MotoPrint
My Verizon Mobile
Netflix
NFL Mobile
QuickOffice (full)
Slacker
SmartActions
Social Location
Social Networking
Task Manager
Tasks
V CAST Tones
Verizon Video
VideoSurf
VZ Navigator
Pre-installed apps aren't normally removable (with a few exceptions) and thus take up space on the phone. At least here there are many good ones, such as Netflix, QuickOffice, SmartActions, and Slacker, and the phone has 16GB of ROM, so you're not likely to run out of space.
Smart Actions, an app from Motorola, is of particular interest. With this users can program the phone to perform specific actions when triggered. There are 11 sample actions to give you an idea of what you can do.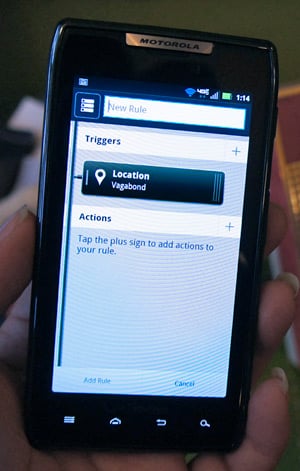 There are 11 triggers or activation queues such as location, timeframe, Wi-Fi connection, battery level, missed calls, and even motion detection. The 15 actions cover most basic functions, like turning on GPS or Airplane Mode, launching apps, changing the default ringtone, and even sending a text.
One of the first Smart Actions I created was an alarm. It might seem too simple, but consider this: when you're at home you wake up a certain time on weekdays. But if you're on vacation, you don't need to get up at 6am, necessarily. I've forgotten to turn off my alarms on vacation plenty of times with unpleasant results. But with the alarm tied to a location, I can set a playlist or my local public radio station app to only play at 6am when I'm at home.
I wish I could trigger the Wi-Fi radio to turn on when I reach a certain location. This doesn't work in SmartActions because the location trigger needs both GPS and Wi-Fi on. Wi-Fi (without the notifications) doesn't take up much battery, but GPS does.
Conclusion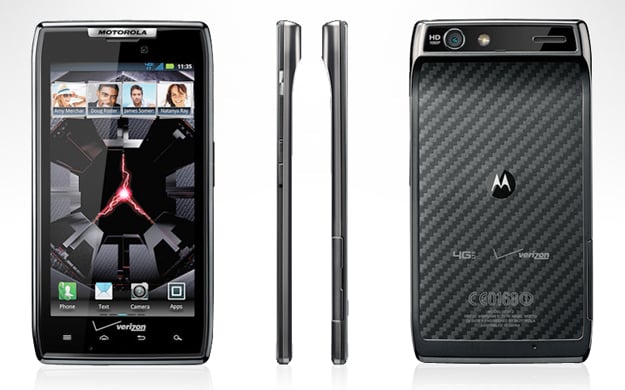 At $299 the Motorola Droid RAZR is one of the more expensive choices for Verizon Wireless. The dual-core power, 4G LTE speeds, light weight and thin profile certainly speak to it being a premium phone worth the price. And the long battery life is a big advantage over the Droid Bionic, which we deemed worth the same cost.
Shutterbugs won't be wowed by the cameras, but they'll do for quick shots and video calls.
If you buy the phone today you'll likely not suffer much buyer's remorse, but lately even expensive phones have ended up on Amazon and Wirefly at a discount for new and renewing contracts within weeks. If you're experiencing some sticker shock, hold off for a little while to see what sales come up.

As an Amazon Associate I earn from qualifying purchases.