Who Is The Motorola Lapdock 100 For? (Aside from Owners of An Atrix 2 or Photon 4G)
Yesterday Motorola announced their newest smartphone dock, the Lapdock 100. It's similar to the Webtop dock available for the Motorola Atrix and the Droid Bionic, except that this one is a bit smaller (10.1 inch display instead of 11.6) and will work with multiple phones instead of just one. At the moment, the multiple phones in question only include the Atrix 2, Photon 4G, and the Droid Bionic. However, going forward, it's likely that all of the company's Android smartphones will have compatibility.
Weighing less than most netbooks and many an ultraportable (2.2 pounds), the Lapdock 100 is certainly portable. It appears to sport a serviceable keyboard and a too small touchpad. The company claims it will last up to 5 hours on a charge.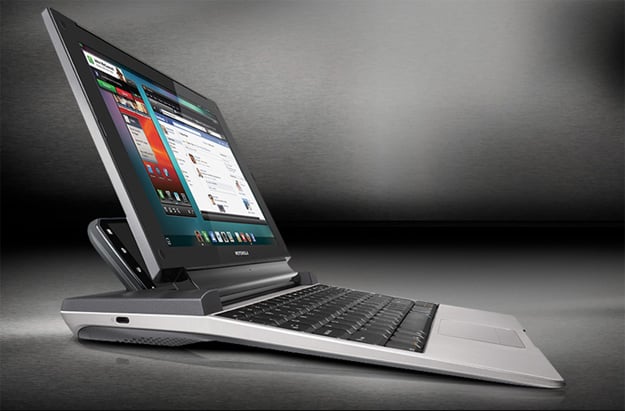 All of that is nice, but the more I see of this type of dock, I wonder: who is this for?
The Lapdock itself doesn't work unless it's connected to a compatible phone. The idea is to put what's on your smartphone on a bigger screen for better productivity. Answer your emails and texts, surf the web with a modified Firefox browser, and consume multimedia content, all while utilizing the phone's mobile data plan or Wi-Fi connection. Isn't that just a tablet, though? A tablet with a keyboard and mouse, yes. But it's not as if that doesn't exist.
I could see it's usefulness if the dock was far less expensive than a tablet. The original Webtop for the Atrix cost $499 if you bought it on its own but the phone and dock together cost $499. The Lapdock 100 doesn't have a price yet. It needs to be less than that to justify it. For $499 you can buy a good netbook or the ASUS Transformer with the keyboard dock.
No doubt there are people for whom a tablet is too much or not quite what they want and netbook or ultraportable are too much. If you fit into that category, you can buy the Lapdock 100 from AT&T on October 17th. Verizon Wireless and Sprint customers can scoop one later this year.

As an Amazon Associate I earn from qualifying purchases.