Motorola Migrate iCloud Support Helps iPhone Owners Switch to Android
When it comes to getting a new smartphone on a different platform, many are worried about getting contacts, calender entries, and essentially all their information from one to another. There's plenty of solutions available, and this week one more arrived.
If you've been eying an Android phone, Motorola wants you to get one of its devices over the Samsung and HTC competition. Motorola's Migrate app just received an update with iCloud support, a tool which makes transferring information extremely easy, and now it will help iOS users make the switch.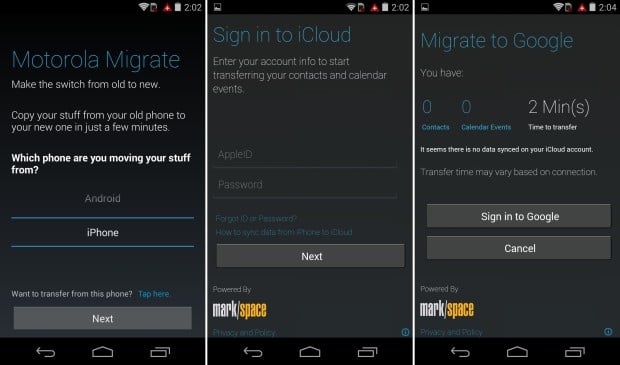 It's called Motorola Migrate, and is pre-installed on many of the current flagship smartphones from Motorola. Including the fully customizable Moto X, and the entire Motorola DROID Ultra lineup from Verizon Wireless.
This week Motorola updated the Migrate app and delivered full iCloud support, so switching from iPhone to a Motorola should be extremely simple. It takes a few taps, typing in your account information, and a good WiFi connection will have you up and running usually in under 5-10 minutes.
Read: Switch From iPhone to the Moto X With This Free Tool
Motorola offers a similar experience on the MotoMaker website where you can customize a Moto X smartphone with more than 18 different colors, and even a beautiful back made out of real wood. Not to mention accent colors, custom wallpapers and more.
Read: Moto X in Walnut Wood Hands-On
Obviously you won't be able to transfer apps and such from iOS to Android, but for those concerned about all those numbers and contacts, not to mention calendar information, Motorola Migrate handles all of that for you. Those are the only two features available for now, but we're assuming more could arrive in a future update as the Android to Android migration includes calls, texts, photos, video and more.
While there's probably not a lot of iPhone users switching to a Motorola, the Moto X is an awesome phone with a smaller form factor to make the switch easier than going to a massive Galaxy Note 3, and now Motorola will help move your important information for you. Get the new Motorola Migrate app on Google Play.

This article may contain affiliate links. Click here for more details.