Motorola to Rely on Snapdragon S4 for 2012 ARM-Based Smartphone Lineup?
After having had a successful partnership with Texas Instruments with the company's ARM-based OMAP chipset and dabbling with NVIDIA's Tegra 2 ARM CPU on the Atrix and original Xoom, it looks like Motorola may be branching out and turning to Qualcomm where it comes to ARM processing power. The 2012 lineup of Motorola smartphones may utilize Qualcomm's dual-core Snapdragon S4 processor and we are already seeing a benchmark leaked for an unannounced Motorola Android handset headed to AT&T with an S4 chipset.
The Motorola phone with a model MB886, rumored to be Dinara and is taking on the Qinara codename was benchmarked using the GLBenchmark utility and shows that the device will launch with Android 4.0.3 Ice Cream Sandwich alongside a Snapdragon processor clocked at 1.5 GHz. The model name may also suggest that this device will follow in AT&T's Atrix franchise. The original Atrix 4G utilized a Tegra 2 CPU while the newer Atrix 2 utilizes a dual-core TI OMAP processor. It looks like if this phone is the Atrix 3, Motorola will make another switch to Qualcomm. The Atrix 3 would be AT&T's answer to the leaked Droid RAZR HD on Verizon; both devices are rumored to get 13-megapixel cameras.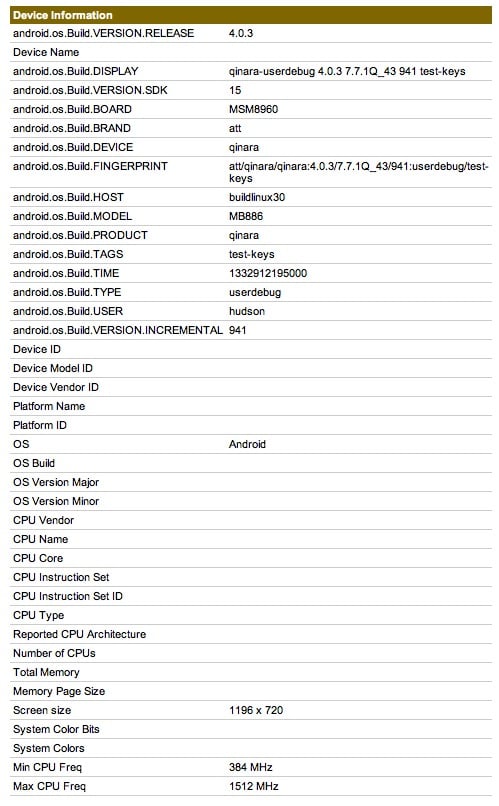 Motorola's move towards Qualcomm's Snapdragon S4 CPU is unsurprising considering that Qualcomm offers better compatibility with 4G LTE networks in the U.S. Bundling the S4 with Qualcomm's radio may make the most sense, and given that the dual-core S4 CPU offers great processing power, holding its own ground against the quad-core Tegra 3, using a dual-core S4 may not hinder the smartphone's performance at all. In fact, with its HTC One X smartphone released for the U.S., HTC is swapping out the quad-core Tegra 3 CPU found on the international model for an S4 chip.
The Benchmark also reveals an odd 1196 X 720 resolution, which isn't quite fully 1280 X 720 as the device's rumored 720p display would suggest. It's unclear at this time what the discrepancy in screen resolution is at this time and it could be due to the benchmarking utility not being optimized yet for high resolution displays running on Android Ice Cream Sandwich. One potential reason is that the phone will lack any capacitive or physical buttons and that like the Galaxy Nexus from Samsung, the Android navigation keys will be moved into the bottom portion of the screen, taking up some pixel space.
According to Droid-life, otentially, Motorola may turn also to the Snapdragon S4 chipset on the leaked Droid RAZR HD for Verizon Wireless' 4G LTE network as well.
In addition to phones using ARM processors, Motorola had also committed to releasing devices utilizing Intel's competing Medfield platform earlier this year.