New Droid RAZR Phones Can Do More…if You Can Afford the Data
Motorola Mobility showed off a trio of attractive Android phones at its launch event today, touting extended battery life, the latest version of Android and fast Verizon 4G LTE data speeds, painting a picture of mobile Nirvana. Verizon has the most mature 4G LTE network in the United States. Its speeds are blazing fast, eclipsing many home and office Internet connections. But Droid RAZR buyers may be in for a bit of bill shock unless they're already dialed into a rare unlimited data plan. Streaming videos, uploading video clips and streaming music all day costs a bundle on Verizon's metered 4G LTE plans.
Unlimited voice and messaging are included in its Share Everything Plans, but Verizon is all about selling GBs these days. The base Share Everything Plan costs $90 for a single smartphone and includes 1GB of data. Another $10 will bump the data limit up to 2GB. For $110 you can get 4GB of data. Verizon's published rates top out at $140 per month for 10GB of data and a single smartphone, but you can opt for extra 2GB buckets of data for $10 per month each. Each additional smartphone on users' accounts costs $40 per month.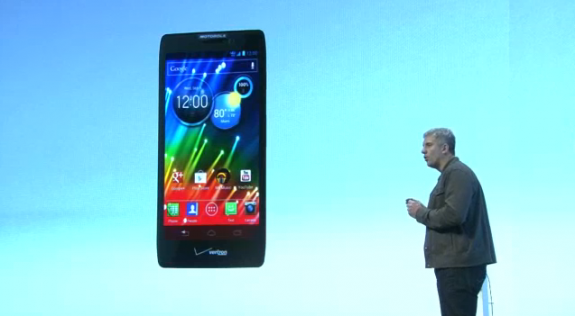 4G LTE devices like the new Droid RAZR MAXX HD can quickly blow through Verizon's Share Everything Plans' data limits. At the RAZR event, a Motorola exec bragged that the RAZR MAXX HD could stream  27 hours of music on a single charge, which is long enough to play every Beatles and Rolling Stones album back to back. If you were to do that you'd blow through more than 2GB of data through Spotify or Pandora. That 2GB cap could also be blown by streaming a single high-definition Netflix movie or downloading a handful of Android games from Google Play. '
Once users blow through their data limits, Verizon charges $15 per GB in overage fees. And that's when the fastest mobile data connection in the country isn't so much fun any more. Is downloading that hot new Android game really worth an extra $15 up charge? Or can it wait until you get back to the shelter of a free Wi-Fi network? Is watching your favorite sports team play a single game on your commute home worth another $15? Sure, subscribers can limit the damage somewhat by upgrading to a higher data tier, but the nagging overage charges mean people will think twice before hitting play.
Truly unlimited 4G LTE is liberating and something we wish Verizon would bring back in some fashion. Verizon promoted unlimited 4G LTE plans when it launched the HTC Thunderbolt, its first 4G LTE-capable phone, a year and a half ago, but the unlimited offer was short lived. Some subscriber who signed up early for 4G LTE, including myself, still enjoy unlimited 4G LTE. But Verizon is wiping away unlimited data plans as those users upgrade to subsidized devices.The only way to keep unlimited 4G LTE is for Verizon customers to pay full price for new devices or keep their original 4G LTE devices long term.
As good as Motorola's and Verizon's take on the future of mobility sounds, it's only a reality for those with deep pockets. Everyone else will find limited data very limiting.

As an Amazon Associate I earn from qualifying purchases.