Motorola Xoom 2 Release Date Gets Even Closer
We know that Motorola is preparing to launch new Xoom models. We've seen what is assumed to be one of the Xoom 2's pass through the FCC. We've seen photos which proves that at least one of them exists. We've also heard that they would be shipping in November and December and now that the new models have appeared in Verizon's system, it would appear that we should have an announcement soon.
A screenshot has surfaced over at Droid-Life showing off what appear to be new Xoom models, Pasteur (MZ617) and Fleming (MZ609). The MZ617 is apparently the 10.1-inch model and the other is the "Media edition" that will likely check in at 8.2-inches in size.
They both apparently will have 4G LTE support and the 10.1-inch model will come in 16GB, 32GB and 64GB variants.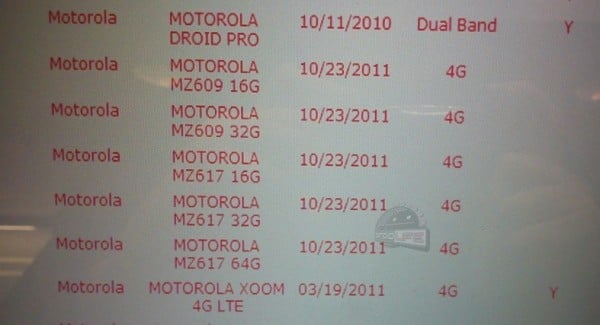 Not bad, Motorola, not bad.
Let's just hope that at least one of them comes with Android 4.0 Ice Cream Sandwich and a quad-core processor on board.
Cross those fingers.

As an Amazon Associate I earn from qualifying purchases.