Motorola Xoom 4G LTE Upgrade Coming in September
Droid-Life has uncovered some evidence that points to a September release of the 4G LTE upgrade for the Motorola Xoom, something that Motorola promised would be coming out at some point this summer. This news comes after we saw what is probably the Xoom's 4G LTE module pass through the FCC with flying colors which seemed to signal that a release was close. Unfortunately, September was probably not what many of you were hoping for when you saw that good news, but hey, at least we have a launch window. Many of you have been waiting since February for this to arrive so it's not like another month or two will hurt.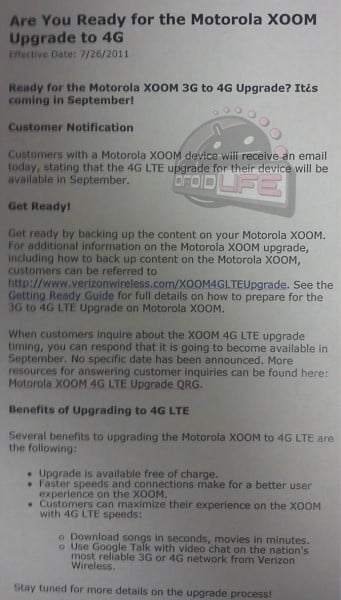 Of course, the document has no specific date listed on there so it could be at any point during the month of September but if you recall, the Xoom upgrade is supposed to take place around the time that the Droid Bionic launches. We've heard September 1st is a possibility for the Bionic so it's possible that September 1st could be the day that 4G LTE finally comes to the Xoom.
Now, it's also rumored that emails will start rolling out today to Xoom owners stating that September is when this update is going to roll out. Have any of you seen it yet? And if so, is September what Moto is telling you? Let us know.