Motorola's Android powered business phone, the Droid Pro.
Since the press release went out, Twitter has been lit up with negative tweets about the Motorola Droid Pro. Many calling it ugly or hideous. Beauty is in the eyes of the beholder because I think it looks pretty nice myself. I wouldn't use it since I don't do front facing keyboards, but I can see it being really popular with the heavy business smart phone users. That is exactly who Verizon and Motorola are targeting with the Droid Pro.In fact, here is the title of the press release…
DROID Does Business: DROID Pro by Motorola Designed for Work and Play on the Nations's Largest and Most Reliable 3G Network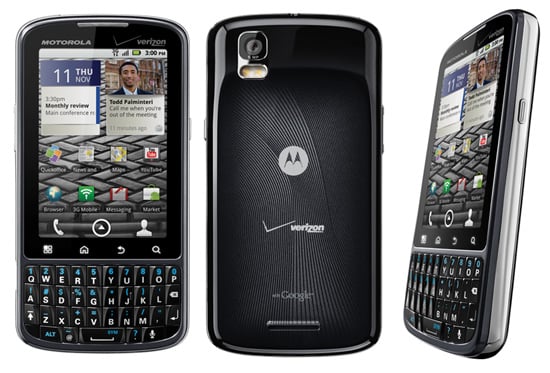 The Droid Pro has a 1GHZ processor, 3.1-inch display, 5 megapixel camera with a dual LED flash, a total of 4GB of memory, and front facing, full qwerty keyboard. Pretty impressive device! For all of you that are worried about which version of Android is on board, it's 2.2. The Droid Pro comes packed with business features too:
Support for both Exchange e-mail and Gmail for business
Corporate directory look-up, unified calendar for Enterprise and sync with Google Calendar
View, edit and share documents, including Microsoft Excel spreadsheets, PowerPoint presentations and Word documents
Built-in security features, including AuthenTec IPSec multi-headed VPN integration, remote wipe of device and SD card, and complex password support. Device and SD card encryption will be available in early 2011
3G Mobile HotSpot capabilities – Allows customers to connect up to five other Wi-Fi-enabled devices and laptops
3G diversity antennae provides customers with enhanced data speeds and range
Wi-Fi-enabled DNLA connectivity
The Droid Pro will be available in the coming weeks and the price will be announced closer to launch.
Android Community was there for the press conference and captured the announcement and shows a little hands on time in this video:
What do you think? Ugly or not?