Motorola's Droid 3 Sold Out Online
It looks like the third-generation Motorola Droid is a hot seller as the phone is sold out online at Verizon Wireless's website. Though the $199.99 3G smartphone–with a two-year contract–lacks a 4G LTE radio, the device has a number of high-end features that make it attractive to consumers, including a much improved keyboard, high resolution 4-inch qHD display, and a dual-core Texas Instruments OMAP4 CPU.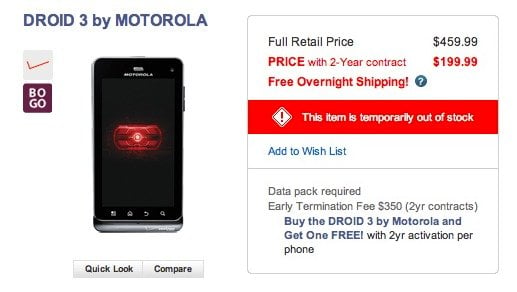 Additionally, the Droid 3's popularity may have also been bolstered by a recent Verizon Wireless promotion that offered a buy one-get one free on the device with contract.
The device is both refined and elegant in its third-generation, and my only major complaint with the Droid 3 is that it can ran on the hot side.
It's unclear when Verizon will get more stock of the Droid 3 in, but if you can't find the device online, you may try a Verizon Wireless store or a third-party seller for the device.
Via: Droid-Life

As an Amazon Associate I earn from qualifying purchases.