Motrr Galileo for iPhone Helps Create Amazing Spherical Images
When iPhone users take 360-degree or panoramic photos with their iPhones, they can get some nice results, but not as nice as they can with the Motrr Galileo for iPhone 5s and iPhone 5c, as well as earlier models. The device, which got its start as a Kickstarter project, automates the process of taking multiple shots with a motorized robotic base. The base rotates both horizontally and vertically to create beautiful images using one of the compatible apps. This results in shots of the user's environment captured in a spherical image that shows all directions, including above the phone.
The Motrr Galileo Bluetooth ($149.95) is about the size of three hockey pucks stacked on top of one another and feels heavy enough to give the iPhone a nice foundation. The device comes with inserts for the iPhone 5s, iPhone 5c and models going back to iPhone 4. The inserts fit on top of the Galileo and snugly hold the iPhone so it won't fall out while rotating on its side. That's important since the Galileo base rotates the phone into landscape mode.
The compatible apps that work with the Galileo will control the motors and make it work the magic that makes the Motrr Galileo so cool.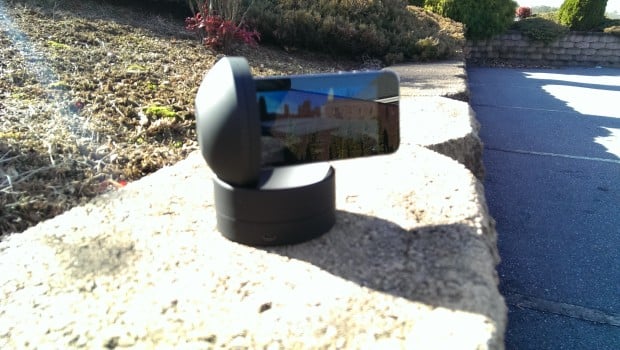 Below we shared an example of an image taken with Sphere (free on iTunes) outside of my church. Control+Click (on Windows popup) or Command+Click (on Mac popup) or tap (on mobile) to see the Sphere image.
The Motrr Galileo connects the iPhone via either Bluetooth, or there's a version for 30-pin adapter iPhones. Once connected, the phone will run various apps that control the Motrr Galileo, rotating it either horizontally or vertically to get the image. Using an app like Sphere results in an interactive 360 degree spherical image. It also saves a flat panoramic shot like the one below to the phone's camera roll.
The Galileo works with a number of iOS apps. Here's the list:
The Galileo connects to a tripod with the threaded hole in the bottom of the base. It stays put thanks to some weight. Along with the apps it produces some interesting results. The price puts this out of reach of hobbyists, making it a tool for serious iPhone photographers.

This article may contain affiliate links. Click here for more details.