Move Over Glass, Google Buys WIMM For Nexus Watch Ambitions
As Google tries to make Glass more appealing to technophiles and fashionistas at the same time, the company is also not putting all its eggs in one basket and is diversifying its wearables portfolio with a potential smartwatch development. There is news that Google had acquired WIMM Labs, the maker of the WIMM smartwatch development platform, in the summer of last year, and that acquisition could help Google and its wholly owned Motorola Mobility hardware unit enter the smartwatch market.
READ: 5 Smartwatches That Puts Connectivity On Your Wrist
History of Watch With Motorola
No stranger to the smartwatch, Motorola Mobility also had experimented with such a concept not too long ago. The MOTO ACTV is a watch that debuted as a sports watch with the ability to play music, track your workouts using GPS sensing, monitor steps taken with a built-in accelerometer, and can add more sensor hardware either through the Bluetooth wireless technology or by using the ANT+ standard. As the watch was made to be paired with a smartphone anyways, Motorola Mobility eventually added the ability to display notifications from Twitter and Facebook along with weather updates. MOTO ACTV has since been discontinued, but Motorola and Google execs have hinted that experiments with embedded sensing and battery life could result in future networks.
Competing Wearables
That seems like a forward statement for a potentially refreshed Nexus or even Motorola smartwatch. The category is definitely heating up and Google may not want to wait out to see if the wrist or the eyes win in this war of competing wearable standards. Pundits are already either favoring the eyes in the form of Google Glass with Robert Scoble evangelizing the technology because it gives access to information all the time. Others, like Apple CEO Tim Cook, don't have much confidence in the eyeglass category because it's obtrusive, unwieldy, and not discrete enough.
"At Google, WIMM's employees are working with the Android team, which may seem natural since WIMM's platform was based on Android, but it is actually a pretty good indicator of the role this acquisition is playing for Google," Giga Om reported. "The company chose not to turn its smartwatch efforts into a Google X moonshot project that may take years to see the light of day, but instead brought it to the division that is making the world's most popular smartphone operating system. In other words: In the nascent world of smartwatches, Google means business."
A Watch Ecosystem
WIMM's watch included a number of things for the emerging watch market. First, it was a hardware piece that is worn on the wrist. Second, it was built on Google's Android platform. And third, it has its own SDK and development platform to entice developers to code their apps to run on the watch or have content pushed from the phone to the watch.
READ: 5 Ways I'm Using my WIMM Smartwatch Today
Why Google's Entry Into the Smartwatch Space is Significant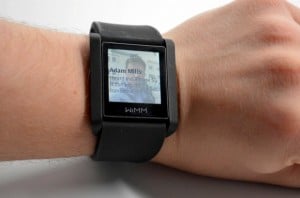 Right now, the situation with watches is very disjointed. Various smartwatch manufacturers are building their own watches on their own standards with their own development engine. It's not consolidated under one Android OS, even if the watch relies on or is built upon Android, and this means that a developer wishing to enter the wrist must build their apps for the various watch-makers on the market, including Pebble, i'm Watch, and others. This is why Google entering this space could be significant. Google could do for the watch what it did for the phone by standardizing development on a platform and then licensing that platform to other hardware-makers either at a low cost or free of charge.
This allows all the different hardware to be built off the same platform and would make the lives of developers easier. Developers now will not have to code their apps for various competing standards based on hardware, but one version of their app built for the smartwatch platform could work across multiple hardware like it would on different phones running the Android operating system.
Location and Sensing
Google would also benefit from the watch because of all the sensors and data the watch would collect. Nokia is demonstrating how automatic collection of GPS data could help traffic systems report that there is a traffic alert or congestion in a specific area without a user having to manually report that data. Turning on your windshield wiper on high in a city could alert GPS systems that the roadways in that area is slick and to potentially re-route new drivers around wet conditions. With a smartwatch, Google could potentially do more with ads and location-based commerce. This is a new space and one that is yet to be fully explored or realized.
Other Players in the Field
Other companies rumored to be entering this space include LG, Apple, and Microsoft. Android partner Samsung is now slated to deliver its own smartwatch as early as next week at a Berlin Show. Samsung's endeavors is being called the Galaxy Gear, a device that could pair with a Galaxy smartphone via Bluetooth and NFC. Sony is already deep in the smartwatch field with two generations of devices named the Sony Smart Watch.