Moves iPhone App Tracks Fitness Without A Fitness Band
A new free iPhone app called Moves can help users track their fitness without the need for a wearable accessory like a FuelBand or FitBit according to The Next Web.
The app can track fitness by turning the iPhone into a pedometer when it's placed in a pocket. Moves uses sensors in the iPhone to determine how many steps the user takes, even when the app is running in the background.
The app is even smart enough to know if the user is walking, running or cycling without any sort of input from the user.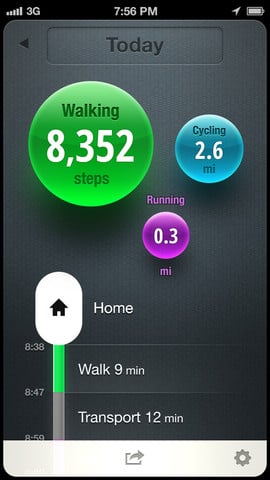 Moves will send the user a daily notification, telling them how many steps they took that day. Users can then choose to share that information to Twitter or Facebook, or just save an image of the data to the iPhone's camera roll.
Moves does communicate with a server to help track information, but app's FAQs claim most users will only send about 30MB of data every month through the app, which shouldn't have a big impact on most data plans. Moves also drains the iPhone battery because it uses GPS and sensors, so users will want to keep that in mind when downloading the free app.
Read: 4 Fitness Trackers To Get in Shape for 2013
The fitness tracking app doesn't give a calorie count like many accessory-based fitness trackers can. The app is free compared to other devices which can cost around $100, so this missing feature may not break the deal for all users.
Users that want a fitness tracker, but can't afford any of the fitness tracker accessories may want to give Moves a try. It looks like a great free alternative. The app is iPhone-only at the moment, but the developer says Android and Windows Phone apps are on the way soon. When those apps do come out, Moves will support more platforms than any of the expensive accessories.

As an Amazon Associate I earn from qualifying purchases.