Mozilla Announces First Developer Firefox OS Phones
Today Mozilla announced the first developer preview phones for Firefox OS will go on sale in February for anyone interested in creating apps for the platform.
Mozilla partnered with Geeksphone and Telefonica to make two developer preview Firefox OS smartphones: a low-end model and one that's closer to the mid-range.
The low-end phone goes by the name of Keon. It's the orange phone in the photo below. The phone uses a 1GHz single-core Qualcomm Snapdragon S1 and has a 3.5-inch HVGA (480×320 resolution) display. The phone also has a 5MP rear-facing camera, 4GB of storage and 512MB of RAM. Storage is expandable via a microSD card slot in the Keon.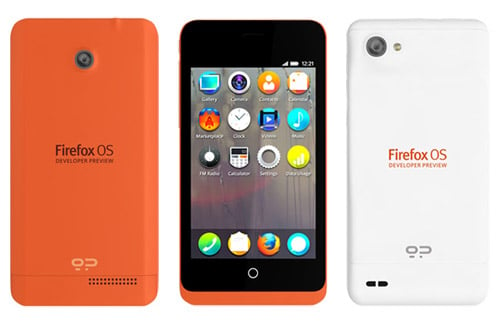 In terms of specs the Keon is closer to the iPhone 3GS than any phone now on the market. It's made more for emerging markets like Brazil where Telefonica owns a majority of one of the biggest carriers.
The second phone is the mid-range Peak which comes with a white back. The Peak uses a dual-core 1.2GHz Snapdragon S4 processor and has a 4.3-inch qHD (960×540 resolution) display. The Peak has both a rear-facing 8MP camera and a front-facing 2MP camera for video chat. Like the Keon, Peak has 4GB of storage expandable with a microSD card and 512MB of RAM.
The developer preview phones will help developers work on their HTML5 apps for Firefox OS. Developers don't have to buy the new phones to test their apps, however. They can also download the Firefox Marketplace for Android to their Android device to try their apps on Android phones.
Developers can also try the Firefox OS Simulator to try their apps in a desktop browser or install Firefox OS on their own device without waiting until next month.
Mozilla and Geeksphone haven't announced pricing for the Firefox OS phones yet, so eager developers will have to wait to find out how much they'll have to spend on the preview phones.

As an Amazon Associate I earn from qualifying purchases.