MSI Tegra Tablet Will Debut Later This Year at $500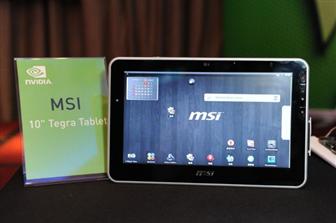 MSI has announced that its Tegra based Tablet will be available in the second half of this year and be priced at $500. I'm guessing we'll be seeing a few of these Tablet announcements over the next few months and they will all have some things in common. They will all have a release date in the second half of the year and the price point will be around $500. Apple set that price point with its announcement yesterday of a $499 starting price for the iPad.
The problem other Tablet makers may have is delivery date. Apple is claiming to be ready to go in 60 days (90 days for an iPad with 3G options) and they'll continue to dominate the news before and after that. If the early very mixed comments about the iPad continue after the release, vendors like MSI will have a great opening. If not, they'll be playing catch up. I'm thinking other Tablet vendors are feeling like they have a shot on the day after the myth busting.
Via SlashGear

As an Amazon Associate I earn from qualifying purchases.