MSI To Unveil X-Slim 320 Air Contender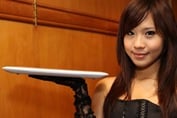 MSI wants to get all Air-like, prepping to release the X-Slim 320. Nope, it isn't a Netbook, or whatever we are going to call them, but it is light and thin, and according to Engadget will fit into a manila envelope. (Don't you find it ironic and entertaining that this has become somewhat of a benchmark measurement for light and then notebooks?)
Engadget Chinese has dug up some specs and it looks like we'll see your now familiar 1.6GHz Intel Atom Z530 processor, a 1366x 768 resolution on a 13.4 inch screen, and up to 2GB of RAM (DDR2). Some are suggesting this will run NVidia's Ion platform as well.
I'm guessing we'll see this in Las Vegas soon, although I didn't pack any manila envelopes to test it out with.
Here's a link to the press release. Crave also has some reporting on this as well (and that's where we got the pic.)

As an Amazon Associate I earn from qualifying purchases.