MSN Windows Phone Exclusives Arrive for iPhone and Android
Owners of Apple's iPhone and devices running Google's Android operating system can now download some of the best exclusive apps they previously would have had to purchase a Windows Phone to get. Earlier this morning Microsoft revealed cross-platform versions of its MSN experience apps.
The new MSN apps appeared in the Google Play Store and iTunes Store this morning. Microsoft has yet to formally announce them, but the company did telegraph their arrival earlier this year when it revamped its MSN website and apps for Windows Phone.
The entire suite includes almost everything that's available to Microsoft's own Windows Phone users. MSN Sports allows users to track the progress of their favorite teams and keep up with the latest in sports news. MSN Food & Drink has related news and recipes. MSN Health & Fitness includes tips for staying active, an activity tracker, workout planner and distance tracker for runners. MSN Weather breaks down current weather patterns, severe weather alerts and interactive maps. MSN Money is all about financial news and stock tracking. MSN News provides headline news directly from MSN.com, newspapers and other magazines.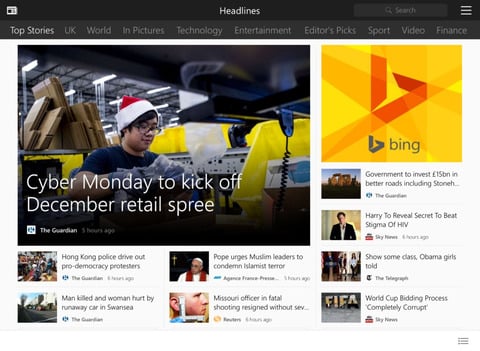 Microsoft may be adding new high-profile apps to its portfolio, but it doesn't seem to have given up on its Windows Phone operating system. The next version of Windows Phone will launch next year. Whereas the Microsoft of yesterday would prioritize apps for its own platforms ahead of others, last year the company began pushing hard on an all-inclusive strategy. The company is hoping that users will switch to its Windows Phone operating system, but if they don't it sees no problem in bringing its best experiences to them. All of the MSN apps include syncing that link them to each other. For example, adding a location in MSN Weather on Android adds that location in the Windows version of MSN Weather and vice versa. Of course, to get that syncing users need a Microsoft Account.
A version of MSN Weather for iPhones and iPads isn't available yet, but is coming, according to WinSuperSite.
Earlier this year Microsoft revealed Office for iPad. Then updated the Office for iPhone and made it free for everyone to edit documents with. It followed all of that up with details about Office for Android apps that work on Android tablets, not just smartphones. Ironically, Microsoft's own Windows 8 operating system doesn't have a fully touch-friendly version of most Office apps. Windows Phone does, but they're woefully out of date at this point. Xbox Music, Microsoft's streaming service has companion apps on Android and iPhone, but the Windows Phone version outshines them. OneDrive, Outlook and Bing also have native apps for Android and iPhone.
There can be no doubt. In case Windows Phone doesn't work out, Microsoft has adopted the same policy as Google towards rival platforms. It's better to let individual apps and services stand on their own against rivals than to handicap them while trying to shore up Windows Phone sales. Now the question becomes, will offering up almost their entire experience on rival platforms harm Windows Phone in a big way? After all, the Microsoft ecosystem integration is perhaps the only big difference between Windows Phone and everything else all ready. That's decidedly unclear.
At the moment, Windows Phone seems to be holding steady with the same market share it's had for years, roughly 2%, according to IDC. That firm is also reporting that it expects Windows Phone shipments to double in the next for years and hit 4%. It's possible that Microsoft's plan is working and that being exposed to so many Microsoft services and apps is helping Windows Phone gain users.