MSQRD App Details: Live Filters for Selfies & Videos
Forget Snapchat Lenses, the MSQRD app is your one stop shop for insane selfies that can turn you into the Joker, Leonardo Dicaprio, Harry Potter, Barrack Obama and a plethora of other characters. You may soon see the MSQRD features in Facebook Messenger or the Facebook app.
You can use the MSQRD app to add selfie masks to photos and to videos that you can save and share on social media. This is an incredibly fun app that offers life filters for selfie photos and videos.
This face swap app is free to use and records videos and takes photos. We've updated this list with the best celebrity MSQRD videos from Jimmy Kimmel, Snoop Dogg, Zach Braff and others.
Users downloaded the MSQRD app 15 million times already and used the live filters over 1 billion times so far.
MSQRD announced that Facebook purchased the app. You can still use the app on your iPhone and Android, but you may soon see it inside the Facebook app and we could see new features.
Here's what you need to know about the fun and increasingly popular MSQRD app for iPhone or Android.
What is MSQRD?
MSQRD, a shortened version of Masquerade, is a free app for iPhone, iPad and Android that changes your face in photos and videos by using live face tracking to deliver incredible effects to the photos.
You can use the live filters to take a selfie photo or record a video with the face mask on to take things to another level.
There are a collection of celebrities and animated emoji-like effects for your face. You can talk and record a video in some and in others you can nod your head or open your mouth to trigger an effect.
How to Use MSQRD
Using MSQRD is simple, but there are a few things to keep in mind. You don't need to tap on your face like you do on Snapchat, but you can tap the screen to change the photo.
The first thing to do is open up the app and at the bottom of the app choose photo or video by tapping on the video camera icon or the camera icon.
Tap on the screen to set the exposure. This will allow you to brighten or darken the photo or video.
Scroll through the live effects with a swipe or a tap to pick the one you want to use. You can see a preview of each as you do it.
Tap in the upper right to switch between the front-facing and rear cameras. You can only do this with one person on the screen. You can use the rear camera to record someone else, and with a little practice even add a selfie filter to your pet.
Tap on the camera or video icon at the bottom to snap a photo or to start recording a 30 second video. You can share directly to social media, and the photo or video is also saved to your Photos app so you can edit and share later.
Get Notified About New Live Filters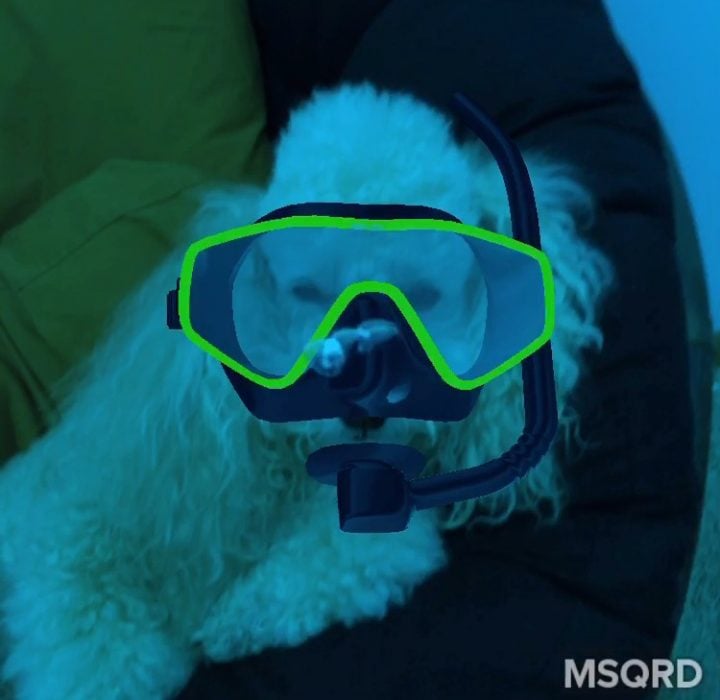 Right now there are roughly 40 live selfie filters available in the MSQRD app for iPhone and Android. The company is adding more to the app in the future and you can sign up to get notified about the additions.
When you scroll to the end of the current selfie masks you will see a pop up to get notified. You can also go to he menu in the upper left and then tap on Notify about new effects.
This will trigger a pop up notification about new MSQRD selfie filters when the company adds them.
No In App Purchases
Right now there are no MSQRD in app purchases, so all of the live selfie filters and masks are free to use.
The company also makes tools for other apps, so there is a good chance that this will remain free and the company is looking for partners to add this into a tool like Facebook Messenger or WhatsApp.
MSQRD Android App
There is finally an official MSQRD Android app available in beta.
This arrived ahead of the Facebook purchase of the app, and it is still available to use on your Android free of charge.
There are some copycat apps that attempt to trick users into downloading the other app, so make sure you get the right one.
Here is the link you need to use to download the MSQRD Android app.
Best MSQRD Videos
https://www.youtube.com/watch?v=-zv06QW5OnM
The app caught on quickly, leading to a number of hilarious videos on YouTube and social media. This shows off the variety of things you can do with the app.
We expect to see many other celebrity examples and amazing MSQRD uses in the near future.

As an Amazon Associate I earn from qualifying purchases.