Mugen Power Boosts Galaxy Note II Battery with 6400 mAh Replacement
Mugen Power will ship a 6400 mAh replacement battery for the power-hungry smartphone-tablet hybrid Samsung Galaxy Note II starting the week of Christmas. Users will likely want a large capacity battery replacement if they use their smartphone a lot during the day.
The enormous 5.5-inch screen sucks juice faster than most Android-powered smartphones, which are known as power-hungry already with a normal sized screen.
The Mugen Power 6400 mAh Extended Battery for the Samsung Galaxy Note II more than doubles the juice of the original 3100 mAh battery that comes with the Note II. That should take a person through an entire workday on a single charge lasting twice as long according to the company's claims. A 4600 mAh Mugen Power battery replacement powered the Samsung Galaxy S3 for more than 24 hours in a recent test.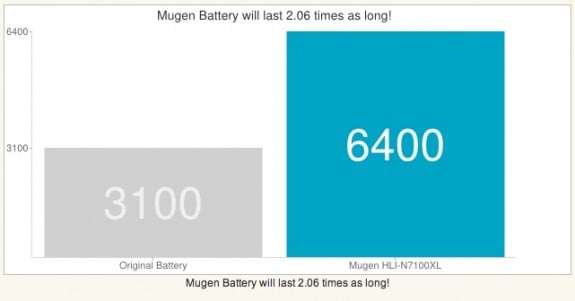 The Mugen Power battery costs $98.95 direct from the company. It comes with one thing that many cheaper batteries won't include. Samsung puts their NFC chip in the battery so replacements without an NFC chip will not let the user enjoy the benefits of the technology. Mugen Power batteries include NFC, which allows users to stream contacts, pictures, playlists and more to other NFC enabled devices.
To get the most out of NFC, place a small NFC enabled sticker, called a tag, in a car or at a desk. Program it to change settings or turn on/off features of the phone. For example, a tag programmed to toggle on/off Bluetooth will let a user save battery life. The person can tap the tag placed in the car to turn on Bluetooth so the phone can connect to the car's hands free feature. Tap the tag again to turn it off when exiting the car. Some use tags for checking in with services like Foursquare.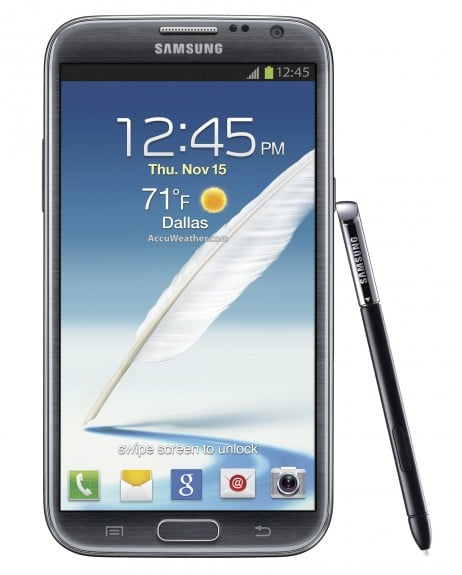 Mugen Power will also ship with a new back that fits the larger battery. It comes in grey or white, both of the colors Samsung offers on the phone, and will ship December 21. Preorder now to get one as soon as they become ready.
The Samsung Galaxy Note is a 5.5″ Android powered phone that comes with an excellent stylus turning the smartphone into a useful inking tablet great for taking notes, signing documents or just drawing pictures. Verizon just announced that it will finally ship the phablet already available from AT&T and Sprint.