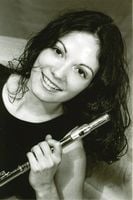 I work in the professional theatre and I am always intrigued and excited to follow other artists who integrate Tablet PCs into their creative process. From my perspective it is a natural. Certainly that can be said for the visual artists and writers, but the performing arts can be a little more difficult to see how a Tablet PC might fit in. Hugh Sung is an artist who has put the Tablet PC to use in performance. He chronicles his experiences as a pianist quite well. On his blog, hughsung.com he is featuring an article written by Megan Emigh, a young flutist, who uses Hugo's system of displaying music on a Tablet PC, turning pages with a footswitch.
Well worth checking out, and IMHO, this is an incredible use of a Tablet PC that I think will only take off the more musicians are exposed to it. You should really spend some time on Hugh's blog reading about his process.

As an Amazon Associate I earn from qualifying purchases.