Mustang Rocks Flat Rock with 1 Million Ford Mustangs
The Ford Mustang began production at the Flat Rock Assembly Plant in Michigan 9 years ago. On the 49th anniversary of the launch of the first Mustang, the Flat Rock Assembly Plant rolled off the 1 millionth Mustang produced there.
"Mustang is one of the most beloved nameplates in the industry, with fans around the world and throughout Ford Motor Company," said Rah Nair, group vice president of global product development.
The ruby red GT Convertible with the track pack is a milestone, but it is just the beginning for growth in Flat Rock. Ford has pledged $550,000 in development of the assembly plant to help support global growth of the Mustang and the addition of Fusion production. Later this year, when Fusion production is in full swing, Ford will have added 1,400 jobs and a second shift.
Technological innovations coming to Flat Rock include an environmentally friendly three wet paint process and a new flexible body shop, brining all assembly in-house instead of shipping the vehicle off-site for certain manufacturing processes.
The Mustang has sold over 8.5 million units in 49 years, and is one of the longest continuous production model lines in existence. But the future had not always been so certain. Jimmy Settles, VP of the United Auto Workers thanked the Mustang fans and the Mustang Club of America for rallying behind the brand when Ford considered pulling the plug on the project.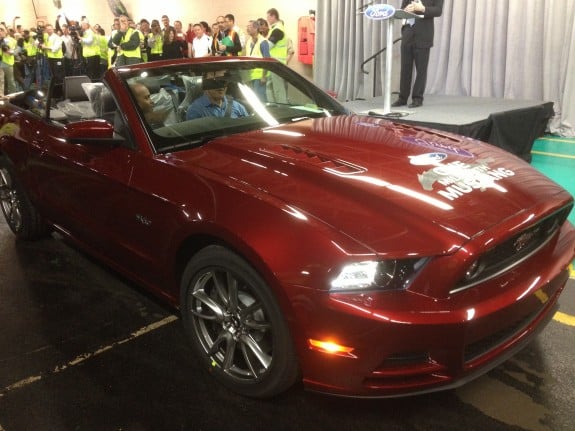 A big theme from the announcement was that the Mustang brand was going global. A big concern amongst auto enthusiasts is whether there will be a different version of the vehicle for Europe and the United States.
Mr. Nair responded to that question, "There are regulatory differences, but a Mustang is a Mustang is a Mustang." That should make enthusiasts in Europe extremely excited.
Nr. Nair was also probed on when we will see information on the redesigned 2015 Mustang, perhaps in celebration of the 50th anniversary, "There will be a mustang in 2015," and, "We will celebrate the 50th anniversary of the Mustang." Obviously more news is to come, but at this time Ford is keeping quiet on the highly anticipated vehicle.