My Brother is Making a Netbook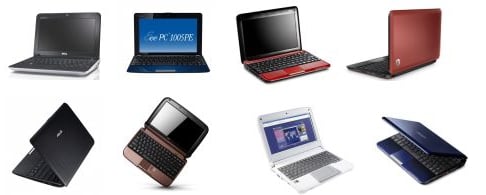 Well, not really. I don't have a brother. But just about every manufacturer who has already been in the Netbook market is coming out with guess what? A new Netbook. So, if I had a brother I'm sure he'd be making one too. Yes, they are all scheduled to be announced at CES, and many will all be touting the new Intel N450 processor, some will be sporting the NVida Ion, and they all will talk about great battery life and better processing power.
The jury seems to be out on better processing power, but so far in early hands on reviews, battery life is improved. But beyond that (and I'm not poo-pooing the improvements here) these are the same Netbooks we've all grown accustomed to. Asus, Dell, Toshiba, HP, Lenovo, Samsung, MSI, and more will be in the mix and they will all want you to buy their new Netbook. The original appeal is still there for those who haven't taken the Netbook plunge yet, but the real question to be answered will center on whether current Netbook adopters will go for seconds.
In the run up to CES 2010 we're seeing so many pre-CES announcements it is enough to make us dizzy. (Intel says we'll see 80 different Netbooks running Pine Trail next year.) But here's a run down from some other sites about some of what's just around the corner. I'm sure we'll see more as everyone and his brother gets skin in the game. It's almost as exciting as everyone and his sister coming out with a Tablet. But then that's a post for tomorrow.
Picture via Liliputing