My Mobile Office This Week
I got quite a few odd looks when I camped out in the cafeteria for the day at my wife's work the other day. I guess it's not entirely normal to carry a pair of laptops and a tablet, much less set them up in public, even in the middle of Silicon Valley.
I needed to get a lot done and had a pair of brand new devices to play with. I haven't worked in a cubicle and I've become quite adept at working from anywhere. I find it less distracting to work in a crowded cafeteria than in a cube with a landline that never stops ringing and colleagues that find any excuse for an interruption.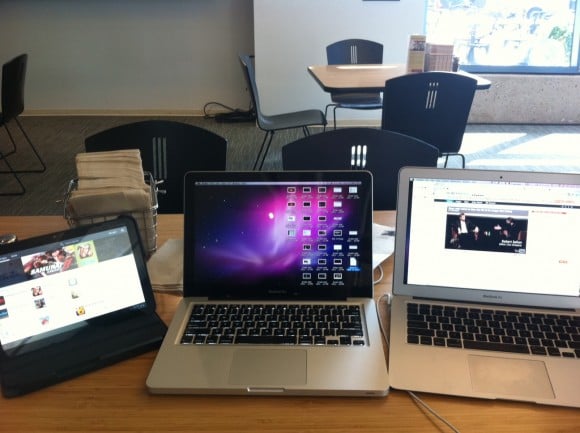 In the middle of the bunch is my new MacBook Pro, complete with its Core i7 processor. It feels like a brick compared to my MacBook Air, but the device is definitely growing on me after a few days. It's obviously faster at processing large photos and videos than the MacBook Air, which has been my primary laptop for the past few months, but its low-res display and mechanical hard drive are an adjustment.
To the left is an iPad 2…just kidding, it's my Motorola Xoom. I used the same joke way too many times when people sat down nearby and asked me why my iPad looked a little different than theirs. I've really enjoyed a dose of Honeycomb this past week, but the honeymoon is over after seeing the iPad 2 launch event. I'm considering returning the device since I'm definitely getting the iPad 2. On the other hand, I'm very interested in trying out Android tablet apps as they roll out. There isn't much there as of today and I feel like I'll miss out if I return the thing. It's obviously a much different experience to observe the evolution of a platform than to experience it live with a real device.
On the right is my trusty MacBook Air. It is the best laptop I've ever owned and I don't see that changing any time soon. After using the 13″ MacBook Pro for much of this week, it's starting to feel a bit sluggish in the multimedia department. I also now find that it hurts a little to type on it. The MacBook Pro's keys have a little more travel, so it's a softer stop for each key stroke. While I despise the MacBook Pro's glossy display in most lighting conditions since it's so glossy, it really shines in low-light situations, such as when I was editing photos in my dimly-lit living room while watching TV last night.
So what did I do with these three devices for the day? I used the Xoom to play with apps and check email occasionally. I edited movies and photos on the Macbook Pro. I wrote several articles on the MacBook Air. All three of the devices fit comfortably in my Voodoo Tactical backpack.
I guess this is yet another reminder that there are compromises to be made and that I've yet to find the perfect mobile device. I'll keep looking.
Update:
Here's a video of what I carried at IDF 2010. About 4 minutes in I show off the Voodoo Tactical Backpack. Best laptop bag I've ever had. You can find them at military surplus shops and VoodooTactical.net.

As an Amazon Associate I earn from qualifying purchases.