Review: MyAssist To The Rescue Again, Saves Time, $200+
MyAssist is a service that I recommend to just about everyone that complains about not having enough hours in the day. Unfortunately, few people take my advice to use the personal assistance service that ends up paying for itself several times over and freeing up countless hours of my life for me to do more important things.
For those of you who are unfamiliar with the service, MyAssist agents help customers like me make purchases, plan travel, make lists and perform other time-intensive tasks. I've used the service to do stuff like find a MacBook Air with the exact specs I wanted locally, plan a vacation to Kerala, India, plan an anniversary weekend, building out a gift registry and to book tickets and get find rental cars for a fraction of their advertised cost.  I also have MyAssist agents look stuff up for me while driving so I don't have to look at my iPhone. They'll make calls on your behalf or connect you to places of business.
My latest request to MyAssist is yet another example of how valuable outsourcing tasks to MyAssist can be. I haven't owned a bicycle since my very expensive mountain bike was stolen from my backyard in college. The idea of buying a new bike has been on the backburner for quite a while, but my interest was piqued when I went to REI on Saturday with a good friend who was visiting from out of town. While she looked at Ski equipment, I wandered over to the bicycle department and found a model from Marin Bikes that I thought would be a good fit. Unfortunately, the price was a little higher than I wanted to spend on an unplanned purchase and they didn't have my size in stock.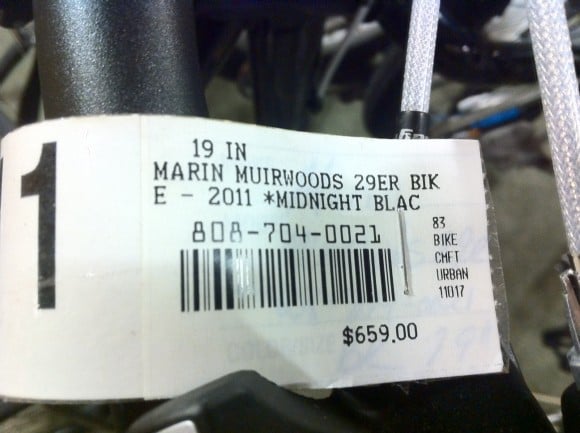 I snapped a photo of the bicycle and the price tag with my iPhone and emailed them to MyAssist. The request was pretty simple and I simply asked them to find me a good deal on the bike from a bike shop that had it in stock. The request took me about 30 seconds of my time and I spent the rest of the day catching up on old times and meeting some mutual friends for dinner.
On Sunday, I awoke to a couple of emails from MyAssist. The first was sent Saturday afternoon, letting me know that there was actually a Marin Bikes outlet store near my house that had last year's model in stock. They weren't allowed to give price quotes over the phone, but I was assured it would be much cheaper than buying elsewhere.  The second email was a follow up to see if I needed any further help shopping for a bike.
My father and I drove down to the Marin Bikes outlet store and sure enough one of the employees remembered the MyAssist call and directed me to the bike I was interested in. The price was just $449, which was 32% off the price I'd seen at the other retail location. The 2010 model was indistinguishable from the 2011 save for a few decals. I took it for a test ride and enjoyed it, but took out a couple of other bikes just to be sure. After choosing a new helmet and a few accessories I walked away as a very satisfied customer.
I'm not a biking enthusiast, but I probably would've spent at least a dozen hours researching bicycles online if I didn't have MyAssist. I would've compared and contrasted each of Marin Bike's models before moving on to other brands. I then would've had to call around to different dealers to find the bike I wanted. I would've also probably talked myself into buying more bike than I needed. By outsourcing much of the shopping process to MyAssist, I prevented from falling into that trap.
I wrote a short email to MyAssist to thank them for their help. An agent sent me the following reply:
Dear Xavier,

Thank you for contacting MyAssist!  I'm glad that you were able to find a great deal on your bike.

Please let us know if you need locations to go biking in your area.  We would be happy to assist.

Sincerely,

Melissa Potocki | MyAssist
One great thing about MyAssist is that their agents always seem to be looking to do more for me than I originally requested.
Using MyAssist means you do may have to give up some control about purchasing decisions, but the benefits outweigh concerns. After countless successful 'assists', I've learned how to make the most of the service.
MyAssist costs $99.99 per year  (annual payment) or $9.99 per month and includes UNLIMITED requests. Agents are available 24/7 by phone, email or mobile apps. I opt for the annual plan and let MyAssist pay for itself.

As an Amazon Associate I earn from qualifying purchases.