MyScript Calculator iOS Update for Easier Inking Calculations
MyScript Calculator is an iOS and Android App that allows you to use your finger to scribble a quick equation and get an answer. It has been around for some time and can be a handy replacement for a napkin or scrap of paper if you have to do figure out a quick sum, or even a more advanced equation. The iOS App just received an update which offers a number of new features that make it an even better fit for those who like to doodle up some math on the fly.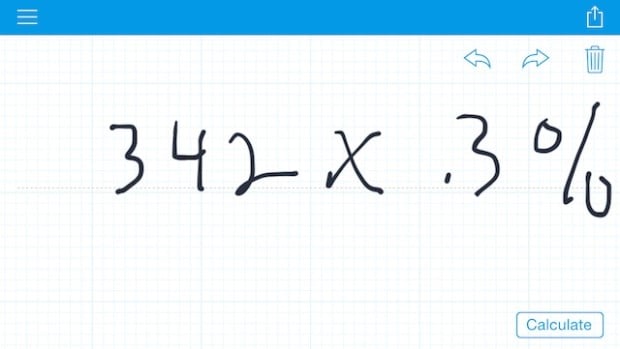 The update brings MyScript Calculator into the design world of iOS 7 and also gives you the option of on-demand calculations. In other words you get to decide when you want to see the result as opposed to the App delivering them as you work. There's an option in settings to turn Automatic Calculation on or off. Turn it off and you get a Calculate button on the screen that you press to get your answer. Leave it on and as you enter your equation the result appears for you. Once you've received your answer what's on the screen is converted from ink into a digital equivalent. This is a nice addition for those who may not be that accurate in their inking, or if you're going to enter a long series of variables.
Results can now be displayed as rounded or truncated in the new version and some new operators have been added. You can make corrects by scratching out an errant entry on the fly.
MyScript Calculator is available in the iTunes App Store for free and it is a universal App. Developed by Vision Objects which also offers MyScript Mathpad. MyScript Mathpad allows you to handwrite your equations on the screen then converts them to their digital equivalent. MyScript Memo lets you do the same with quick notes that can be converted to text, and MyScript Notes Mobile is a more full featured digital ink note taking App. MyScript Calculator is also available for Android.

As an Amazon Associate I earn from qualifying purchases.