Mythic Apple Tablet spotted in German kids magazine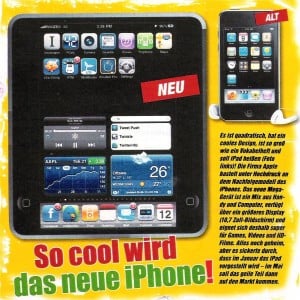 If I didn't already think Apple tablet mania has gone too far (because it's based on a product that doesn't even exist yet), I'd say this clip from a German kids magazine proves it's gone way past the edge. Yes, our friends at UMPCPortal have spotted the mythic Apple tablet in a German teeny bopper magazine. It will be called the iPad and it will release in January. Also, which is hotter: vampires or werewolves? Thanks to "Chippy's daughter" for finding this in one of her magazines (wink wink – we won't tell anyone it's actually your magazine, Chippy).

As an Amazon Associate I earn from qualifying purchases.