N-Trig announces Digital Pencil for DuoSense touchscreens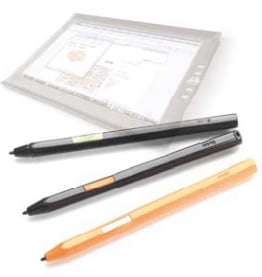 Not quite a year ago, N-Trig showed off their DuoSense touch digitizer with option to add pen input later via battery-powered pen. Well, the pen is finally coming to market and to clearly differentiate it from the battery-less pen that comes with pen+touch systems, they're calling it their Digital Pencil.
The gist of the DuoSense system is that vendors can opt for either a pen+touch system or a touch-only system, as seen on the Lenovo T400s. The pen+touch system includes a pen that works without batteries, like the Wacom system. The touch-only option leaves out a coil in the digitizer to recognize pen input.
But if you'd like to add pen input later, the Digital Pencil has the necessary hardware built into it to replicate the effects of the pen digitizer. Per N-Trig's website, the pen uses a standard AAAA battery (which I may have never seen in my life) that can last up to 18 months. The downside is that the battery should add a bit of heft (though that might improve the feel for some people), and your notebook, not being designed for pen input, probably lacks a pen garage. One minor quibble: Digital Pencil but no digital eraser on the end? I would have gone with Digital Marker.
Press release below. Hat tip to PC World and Engadget. BTW, I heartily suggest reading Engadget's take on the news. Classic.
N-trig DuoSense® Pen Solutions, Bringing a More Personal Element to Hands-on Computing®

Pen Solutions Are Key Components of DuoSense® Hands on Computing® Combination Offering Users Choice in How They Connect with Their Computers

KFAR SABA, Israel & AUSTIN, Texas–(BUSINESS WIRE)–N-trig today announces the general availability of its battery-powered Digital Pencil™, an integral part of the DuoSense® pen solution combined with capacitive true multi-touch.

"The compelling combination of pen and true multi-touch offers users the freedom to select the input method of their choice, whether it be the pen or their fingertips, when interacting directly with their slate, tablet, notebook or other computing device"

N-trig's DuoSense pen solutions are comprised of the Electrostatic battery-less pen, and the battery-powered Digital Pencil™ and N-trig holds multiple related patent applications for these solutions. Both pens correspond to the same unique hardware, complementing the inherent true multi-touch capabilities. The DuoSense pen offers the return of the lost art of handwriting and together with the true multi-touch solution opens up a whole new world of personal choice for the user in deciding how to interact with their computing devices.

"The compelling combination of pen and true multi-touch offers users the freedom to select the input method of their choice, whether it be the pen or their fingertips, when interacting directly with their slate, tablet, notebook or other computing device," said Amichai Ben-David, CEO, N-trig. "The choice between either or both pen and multi-touch provides users with new levels of flexibility and personalization for a more natural and Hands-on computing experience."

The pen combined with the true multi-touch capabilities suits a variety of activities whether at work or at leisure. The DuoSense pen offers the comfort of jotting down an idea as soon as it occurs, requires no use of paper, and results in a more efficient, productive and mobile computing environment. Students can easily take notes in class, children can play games, artists and designers can make sketches or draw directly on their computer screens and the corporate user can answer emails or work on a spreadsheet as they move between meetings. The possibilities are limitless, as more and more application developers understand the power of the pen and multi-touch combination – for example, picture a unique way of sending personalized handwritten notes on Facebook, or even the fun of playing Farmville by drawing in your own crops or scarecrows.

N-trig's DuoSense pen solutions include:

* Electrostatic pen – An integral part of the digitizer, maintenance free and therefore ideal for the enterprise market. Using a conductive capacitor that is integrated as part of the pen, it connects to an electromagnetic field generated by an excitation coil in the digitizer. The frequencies of the conducted electromagnetic waves are controlled by the computer system, which enables a smooth handwriting experience.
* Digital PencilTM – A wireless power-efficient electronic pen, suitable for long life battery use. The DuoSense software identifies the position of the Pencil and the pressure level, removing the need for an excitation coil within the DuoSense digitizer and can be used either as an integral part of the solution or as an optional after-market accessory, enabling OEMs to offer system upgrades, making the Digital Pencil ideal for the consumer market.

The pen capabilities provide new levels of accuracy and precision, and a more personal and intimate approach to computing, ideally suited to today's fast-paced, on-the-go lifestyle. The pen will always have a place in translating thoughts into immediate expression, providing people with a strong and effective tool to write down their story, give directions or even play games. The pen provides a whole new approach, whether at school, at home or the office, resulting in higher sales for OEMs as a result of noticeable user gratification and a more fun, natural and intuitive Hands-on experience.

About N-trig

DuoSense is a dual mode pen and true multi-touch interface specifically designed for today's advanced computing world. The DuoSense dual-mode digitizer uses both pen and zero-pressure capacitive touch to provide a true Hands-on computing® experience for mobile computers and other digital input products over a single device. DuoSense offers greater mobility and usability in the next generation of computing devices, enabling new market opportunities for OEMs and ODMs to introduce new computer products and for ISVs to develop innovative software applications that offer a more intuitive and interactive experience. N-trig is well versed in working with key manufacturers in the Far East and has a diverse and extensive supply chain. N-trig's digitizers are easily integrated into existing technologies, support any type of LCD, and keep devices slim and light. N-trig's solution can be implemented in a broad range of products from small notebooks to large format LCDs and can support a variety of applications for different market segments including, mobile, gaming, graphic and industrial design, entertainment and multimedia. Founded in 1999, N-trig maintains a global operation with its R&D facility and corporate headquarters and management in Kfar Saba, Israel, sales, OEM and ISV support in Austin, Texas and San Jose California, and ODM, operations and supply chain support in Taipei and Tokyo. For more information, please visit www.n-trig.com.

This article may contain affiliate links. Click here for more details.