N-trig Demos New Pen and Multi-Touch Technology at SID
N-trig, currently the only company offering multi-touch screens for Tablet PCs, is demonstrating some innovative new technology at SID (Society for Information Display) Display Week 2009. The hot items?
The company is introducing several new innovations including a battery-powered pen, a number of Windows 7-compatible software applications, and a concept design model of a DuoSense module, with transparent bezel and printed DuoSense digitizer.
Okay, before you draw any conclusions about the battery-powered pen (as I did), read this:
The battery-powered pen can also be used as an add-on option, for systems that did not originally include out-of-the-box pen functionality.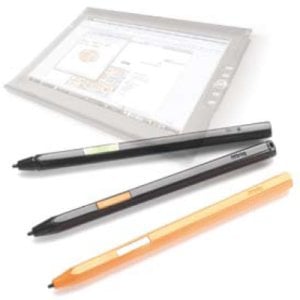 So even if your N-trig DuoSense tablet wasn't designed for pen input, the system allows you to add a pen later thanks to battery-powered technology integrated into the pen. Should obviously have a bit more heft than their battery-free pen, but it means users can add pen input to any DuoSense multi-touch tablet. I think that is very cool.
Full press release after the jump. I also suggest checking out their events page for brochures on DuoSense. That's where I found the info about the battery-powered pen. There's also a summary of their basic multi-touch gestures that I found enlightening, as well as info on the digitizer technology. Really strengthens my hope and belief that the multi-touch excitement will be very positive for pen input.
Via BusinessWire
Getting Hands-onâ"¢ With N-trig's Enhanced Multi-Touch Capabilities at SID 2009 Display Week
Ready for Windows 7, Leader in Hands-on Computingâ"¢ Showcases Innovation and New Product Developments at This Year's Annual SID Display Week
SAN ANTONIO–(BUSINESS WIRE)–N-trig, providers of DuoSense ® technology, combining pen and capacitive multi-touch in a single device, is today showcasing its new innovations for the multi-touch experience all running on Windows 7. SID attendees can get hands-on at N-trig's booth #479.
The company is introducing several new innovations including a battery-powered pen, a number of Windows 7-compatible software applications, and a concept design model of a DuoSense module, with transparent bezel and printed DuoSense digitizer.
The effect of pen and multi-touch technology on the computing market has become more significant and widespread. N-trig is driving this market segment and serving as a creative springboard for ISVs to break new ground by creating software applications that can be implemented in a broad range of business and consumer environments, while setting the stage for OEMs to introduce innovative computer products. N-trig has embraced the opportunity to advance the pen and multi-touch evolution and has developed the tools for the computing industry to enable this natural progression:
ISV Applications: N-trig will be demonstrating applications created by ISVs specifically for SID 2009. These applications run over Windows 7 platform and were designed using N-trig's DuoSense pen and multi-touch technology—the only commercial product to enable more than 2 simultaneous touch points. The applications can be used by consumers and businesses for a wide range of uses and include applications for consumer gaming and multi-media management, retail shopping applications and high end engineering applications.
Battery-Powered Pen: As with the DuoSense electromagnetic pen, the battery-powered pen can run using the unique DuoSense hardware and can also be used as an add-on option if out-of-the-box pen functionality is not provided. The pen complements inherent multi-touch capabilities and enables the user to write on their screen as easily as one would in a notebook or on a pad of paper. The battery-powered pen runs using a standard battery (AAAA). The ability to support both pen and touch from one input device is one of many N-trig significant IP assets.
Concept Design Model: The standard DuoSense digitizer on the concept design unit has been removed and replaced with a transparent panel, allowing viewers to see the electronics behind the DuoSense digitizer with a unique printed design on the sensor. This demonstrates N-trig's forward thinking approach and cutting edge technology, and displays the innovative and creative nature of the DuoSense dual mode pen and multi-touch capabilities.
"With the imminent public launch of Windows 7, we are working together with Microsoft and ISVs to create real multi-touch applications that offer consumers an unparalleled hands-on computing experience far beyond the pinch (zoom) and rotate limited experience, really leveraging more than two touch points," said Amichai Ben David, CEO of N-trig. "At SID, we are demonstrating how we enable the market and drive the ecosystem forward, in order for OEMs and ISVs to be fully prepared with strong and stable multi-touch features for the mass market adoption of the Windows 7 operating system."
N-trig's DuoSense technology can be found in the Dell Latitude XT/XT2 and the HP TouchSmart tx2. Future designs will be announced in the coming months.
About N-trig
N-trig is revolutionizing the way people interact with computers by providing the industry's first dual-mode pen and touch input device. N-trig's DuoSense technology is the only combined pen, touch, and multi-touch interface for today's advanced computing world. N-trig's DuoSense dual-mode digitizer uses both pen and zero-pressure capacitive touch to provide a true Hands-on computingâ"¢ experience for mobile computers and other digital input products over a single device. DuoSense enables greater mobility and usability in the next generation of computing devices and notebook PCs, enabling new market opportunities for OEMs and ODMs to introduce computer products which offer a more intuitive and interactive experience. N-trig's digitizers are easily integratable, support any type of LCD, and keep devices slim and light. N-trig's technology can be implemented in a broad range of products from small notebooks to large format LCDs and can support a variety of applications including mobile, notebooks, convertible and all-in-one computing, gaming, entertainment, multimedia and more. Founded in 1999, N-trig is headquartered in Kfar Saba, Israel with offices in Austin, TX and Taipei, Taiwan. For more information, please visit www.n-trig.com.
About Display Week 2009
The SID International Symposium, Seminar and Exhibition, now in its 47th year, is the premier international gathering of scientists, engineers, manufacturers and users in the electronic-display industry. The event provides access to a wide range of technology and applications from high-definition flat-panel displays using both emissive and liquid-crystal technology to the latest in OLED displays and large-area projection-display systems. For more information on Display Week 2009, visit www.sid2009.org.
About SID
The Society for Information Display (SID) is the leading international professional society exclusively devoted to the advancement of electronic-display technology, manufacturing and applications. Its international headquarters are located at 610 South Second Street, San Jose, Calif. Visit SID online at www.sid.org.