N-Trig Has Big Plans For DuoSense Digitizers
With Dell's announcment of their XT Tablet PC that includes an N-Trig digitizer, N-Trig is all over the news this week. Sierra recently posted some great links to videos of the digitizer in action here.
Now Gizmodo is running an exclusive interview with N-Trig's Director of Marketing, Abigal Solomon, where she gives out the info that N-Trig has its focus far beyond Tablet PCs. The interview also covers some of the digitizer's features and some interesting comparisions to Wacom's digitizers. N-Trig is calling their technology Duo-Sense, which might do something to help clear up the whole ""What is multi-touch?" issue that's out there.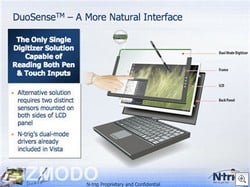 This article may contain affiliate links. Click here for more details.