N-Trig officially announces Android support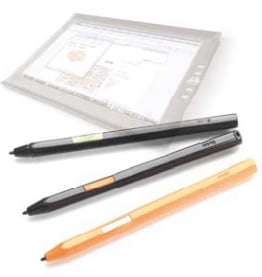 Time to brush up on your penmanship: Yesterday's report that N-Trig will support Android devices has been confirmed. The company posted a release backing the story from Ina Fried. But will Android tablets ship with pens or will pens be optional? And is this big news for tablets or bigger news for eReaders?
While capacitive stylus solutions have popped up left and right, they're still pale imitators of active digitizer systems that can detect proximity and pressure from pen input. Sure, it requires special technology in the pen, but the accuracy is unparalleled. Paired with capacitive touch capable of recognizing up to four points of contact in N-Trig's DuoSense solution, users get the best of both touch and pen.
Unfortunately, I get the impression that N-Trig expects, perhaps rightfully so, that most vendors will opt for the version of DuoSense that uses their battery-powered "pencil" not the presumably more expensive, built-for-pen version. Still provides the option for active pen input, but it's more of a user-added option at extra cost, which is always a deterrent.
Where I think this could see a larger impact is with eReaders. Pen input on eReaders is as natural a fit as pen on paper. The enTourage eDGe features active pen input on its e-ink screen (using a Wacom digitizer). Samsung offers pen input on some of their eReaders. I wouldn't be surprised if Barnes & Noble follows suit and upgrades their next NOOK to a N-Trig DuoSense digitizer (unless Wacom pushes them to use their dual-digitizer instead).
Lot of ways this could go. Let us know what you think. Press release below.
N-trig Pen and Multi-Touch Technology Now Operating with Android

DuoSense® Technology Expands Developer Creativity & Consumer Connection on Slates

Kfar Saba, Israel & AUSTIN, Texas– December 21st, 2010– N-trig, providers of DuoSense® a pen and projected capacitive multi-touch solution enabled over a single digitizer, today announced that it is now compatible with the Android operating system.

Android is increasingly becoming the operating system of choice for the fast expanding slate and mobile PC segment. The DuoSense solution offers the Android community a comprehensive package for both pen and multi-touch development. Utilizing N-trig hardware, devices running over Android can expand conventional slate functionality by using both the DuoSense pen and multi-touch capabilities. The combination of DuoSense and Android opens up new windows of opportunity for the Android pen community to utilize the N-trig Digital PencilTM to expand functionality from traditional media consumption and create pen-enabled applications for more precise and creative on-screen user interaction.

"With the addition of Android, we are able to address the different requirements of a rapidly growing market that is looking to expand its media consumption and creative capabilities for pen and multi-touch functionality," says Amichai Ben David, CEO of N-trig. "Together with the Android developer community, we will be able to enable greater precision, productivity and accuracy with new pen-enabled applications that will enhance the way users connect with their computers".
N-trig's DuoSense solution will be integrated in a number of Android slates due to be launched in 2011.
Via Engadget

This article may contain affiliate links. Click here for more details.