Nano-SIM Design Proposes 30 Percent Smaller Footprint Than Micro-SIM
SIM card format developer Giesecke & Devrient is proposing new specifications for a new SIM format called the nano-SIM, which will be 30 percent smaller than today's micro-SIM and 60 percent smaller than mini-SIM. The micro-SIM is being increasingly adopted by various smartphone-makers and is appearing on devices such as the Galaxy Tab 10.1 on Verizon, Apple's iPhone 4 and 4S, Apple's iPad tablets, and the Nokia Lumia 800 Windows Phone devices, for example.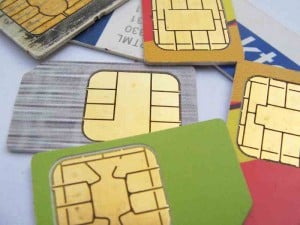 SIM cards are commonly used by GSM carriers and the card connects a user's account to a network. The benefit of having a SIM is the rapid ease of switching devices. For instance, users who own multiple phones can switch their SIM card from one phone to the next without having to change any information on their account or call into their carriers. The larger SIM card format used today are known as mini-SIM and the smaller cards on the iPhone 4S, for instance, are known as the micro-SIM.
Smaller SIM cards will also enable for smaller, thinner devices. The Motorola Droid RAZR, with its impeccably slim body, was designed for use with a micro-SIM. In addition to occupying a smaller footprint, these new nano-SIM cards will also be 5 percent slimmer.
As smartphone cram more technologies and sensors into their packaging, smaller, thinner SIM cards will help to conserve space as well on a device.
Giesecke & Devrient says that these new nano cards will also have adapters that will make them work on devices with micro- and mini-SIM slots. The company hopes that the European Telecommunications Standards Institute, or ETSI, will adopt the standard and make nano-SIMs official by the end of 2012.
Via: Mobileburn

As an Amazon Associate I earn from qualifying purchases.