Moto X With Wood Back Arrives with Big Price, Long Wait
Customizable plastic coloring aren't the only thing the Moto X, Motorola's first flagship device under Google's umbrella, will be known for. Starting today, users have the option to order the Moto X with a solid wood back, lending the device an all-natural finish and costing users even more than it did already.
As of now, the option is available on Moto Maker, the website that allows users to customize their device's coloring before it's assembled in Motorola's new Texas plant. For an extra $100, Motorola will assemble and ship a wood-backed Moto X to user's door step. For example, users can order an entry-level Moto X with wood back for $199.99 with a two-year service agreement.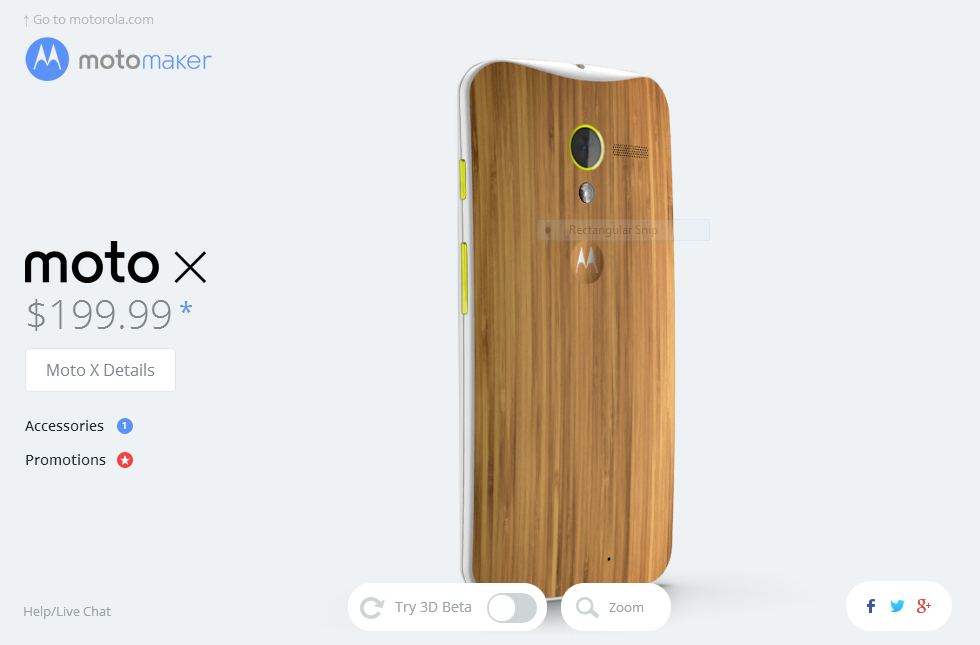 Unfortunately, users don't exactly have a lot of time to design their device and consider its aesthetics before ordering. Motorola's website is already showing a two-week delivery delay for the device itself. Users can't turn to their local wireless store to get their hands on a wood-backed Moto X any earlier either. The Moto X with wood back  is completely exclusive to Motorola's online store.
While adding a wood back option to the Moto X might seem trivial, it's important to remember that Motorola is counting on device customization to help sell units. In fact, giving users to opportunity to create a device customized to their tastes is at the center of the Moto X's marketing campaign. It's also a feature that factored heavily into GottaBeMobile's review of the Moto X earlier this year.
Read: Moto X Review
That being said, the Moto X isn't just a customizable pretty face. The device comes equipped with a few hardware and software additions that are unique to the device. Active Display software allows it to surface notifications when its screen is turned off. It also features an Active Listening system that allows users to give it voice commands at any time.
The Moto X also features a 1.7GHz dual-core processor, 2GB of RAM and a 4.7-inch display.
Though exciting for potential buyers, the option to pick up a Moto X with wood back isn't something users didn't know was coming. Motorola announced that the Moto X would get wood backs during its press conference detailing the device.
The Moto X is available for $99 on Verizon, $49.99 on AT&T and free Sprint users. Those prices also include a two-year service agreement.

This article may contain affiliate links. Click here for more details.