Navigate with the N800 Internet Tablet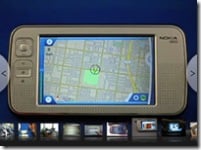 We have covered the N800 in the past, and we have also covered the use of a UMPC as a GPS device. Now, it looks like we have both of them together in one – Using the N800 as a GPS device in the car. Over at Tabletblog.com they have a series of 3 videos posted of the unit being used as a navigator. These videos take the N800 with the NAVKIT thru it's paces using the Navicore software. He give a nice overview of the software, in car setup and a long video of it in action.
To sum it up in his own words:
In conclusion, I would say that the Navicore software is some of the best software ever written for Nokia Internet Tablets. With Canola, Rhapsody, Gizmo Project and other software, it's clear that the Nokia Internet Tablet platform gets stronger as time goes on. For Internet Tablet users, it's a a fantastic kit.
Via JKonTheRun, via maemo

As an Amazon Associate I earn from qualifying purchases.