NAVIsis's Tablet Mouse Adds Some Tablet PC Functionality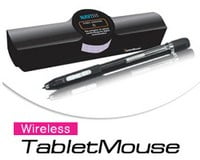 This certainly looks like an interesting compromise if you want some inking ability without a Tablet PC. The NAVisis Tablet Mouse consists of a device that attacheds to your laptop that reads ultrasonic wave and infrared techonolgy to follow the strokes of the TabletMouse pen. From the looks of it, you can then use the pen to write (or mouse) on any surface and these strokes are then translated to the device. According to the product page it is designed to work with Vista and allows you to ink in Office, Journal, Messenger, use the Snipping Tool, and pen flicks.
Like I said this looks like an interesting compromise.
Via SlashGear

As an Amazon Associate I earn from qualifying purchases.