NBA 2K17: What I Learned on the First Day
Today, the kick-off of NBA 2K17's Early Tip-Off Weekend, I ended a nearly decade long standoff with basketball games. I opened up the Xbox app on my PC and I purchased NBA 2K17. I didn't spring for the Legends Edition or buy any extra in-game currency. I wasn't even sure I'd like the game that much.
For a while, I loved basketball and football games, but that was back during the days of the Dreamcast. My system finally died on me. So I moved on from them. I wasn't thrilled that my beloved NFL 2K series was dead because of a deal the National Football League had made with Electronic Arts. I tried getting into NBA 2K again with last year's NBA 2K16; It was Spike Lee's narrative-heavy MyCareer that convinced me to play the game. I didn't keep it for long though, I traded it in for money off a more expensive game because I had a hard time with it.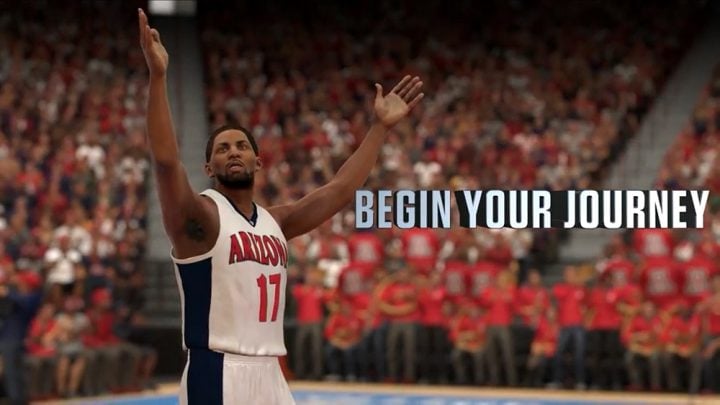 I'm back this year, and ready to put in the time it's going to take to get better at basketball in general and NBA 2K17 in particular. I've learned a lot since I first launched the game this morning.
Virtual Currency is Your Friend
Admittedly, I'm not a big fan of currencies in video games – especially when the easiest way to get that currency involves spending money out of my pocket. It's fine if free-to-play games have them, but If I paid $60 for a title, I better be able to get away with not giving the developer more money.
After spending some time with Virtual Currency in NBA 2K17, I'm inclined to hate it a bit less. I'd expected to be immediately forced into spending real-money on VC, but that hasn't happened yet. My Player isn't flush with it just yet, but it's nice that endorsement deals provide a small boost. It doesn't hurt that there are ways to earn Virtual Currency from MyNBA2K17 on iPhone and Android either.
I'm still not willing to spend any additional money on Virtual Currency. There's enough ways to grind some out that I don't feel too bad.
Practice on Off Days
To be frank, not playing extensively all these years has left my skills in a rough spot. I'm not just bad, I'm really bad.
Thankfully, the MyCareer Mode – my favorite mode and reason I purchased the game – offers some opportunities to get in practice when not playing a big game. Outside of MyCareer Mode, MyPark has offered up some great practice opportunities too. I'm still not that good, though, but I'm getting better. At least, my timing has improved. I'm hoping that tips from Coach K through NBA 2KU will help with my lackluster abilities.
Watch The Body Type
The last time I played NBA 2K the simulation wasn't as deep as it is in NBA 2K17. I took things for granted, like being able to behave like a star player that looked anyway I wanted him to. What body type I decided on didn't matter because it never felt like it changed the simulation all that much.
The new MyPlayer creation system drives how important play styles and body type really are. I doubled down on being a Sharpshooter type player with MyPlayer. I plan on upgrading him as much as possible before creating another MyPlayer later in the year and trying another player type.
An Appreciate for More Than Just the Team Star
Being only a casual basketball fan before, I don't believe I ever had much appreciation for dynamics of team play in the sport. That is to say, I've always appreciated Kobe Bryant and Shaquille O'Neal, but it'd never occurred to me just how much they had a partnership. The Lakers wouldn't have been amazing to watch all of those years without both of them by each other's side.
I'd love to say that this came to me once Shaq moved on from the Lakers, but it didn't. I'm understanding it more now that I see the dynamics on display in MyCareer. Justice is more than just your rookie friend. When you get traded to a team, you can request that he also gets traded. You interact with him regularly. You're both better for having played with each other.
The Fun of MyPark
There are times when I really, really don't want to be dealing with the seriousness and responsibility of MyPlayer and MyCareer. That's where I've dipped my toe into MyPark.
Getting a pickup game going in MyPark is more fun than I originally thought it was going to be. Don't get me wrong, my skills are lackluster, but it's great to see other teams as they hold their own scrimmages and just observe.
Over all, I'm pleased with where NBA 2K17 landed. It still feels like I have a huge mountain to climb before I completely understand everything that's going on in the simulation. That being said, I'm learning a lot and having some fun in the process. It's been a while since I've done that in a game on my Xbox One that didn't involve shooting another player.
NBA 2K17 launches for PC, Xbox One and PlayStation users that didn't pre-order on September 20th.

As an Amazon Associate I earn from qualifying purchases.